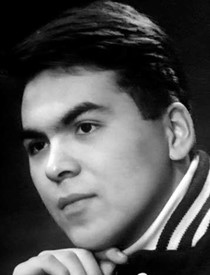 David Wheeler
3/25/1976 — 9/16/2017
David Lookingglass Wheeler was born March 25, 1976, at Clarkston. David began his journey to be with his ancestors the morning of Saturday, Sept. 16, 2017, surrounded by his family and friends. David comes from the Lookingglass Band, of which he was extremely proud: He was a direct descendant of young Chief Lookingglass. On his mother's side, he comes from the Whitebird Band through his great-great-grandfather Charles Amera, who was a young man during the Nez Perce War of 1877.
David worked for the Nez Perce Tribe Maintenance Department. He also worked in fire management as a firefighter and in 2003 traveled with the Nez Perce Tribe fire crew dispatched to retrieve parts of the tragically destroyed Space Shuttle Columbia through NASA and the EPA. David loved the work he did and enjoyed the company of his co-workers.
David was a fun-loving guy who loved all his family and friends unconditionally. He grew up in Lapwai and graduated from Lapwai High School in 1994. While in high school, in 1993, he played football and was selected as a defensive end for the all-Central Idaho League for the North All-Star football team. He played football, basketball and was an active member of the Indian Club. He also attended Haskell Indian College in 1996. David's nickname in high school was "Deluxe." Another nickname he earned affectionately later in life was "Muffs."
David enjoyed the annual event of the Chief Lookingglass Celebration in Kamiah. One of his fondest memories was traveling with his mom, sister and grandmother, Delores, to Canada to visit the Nez Perce who continue to live at Pincher Creek in Canada. David enjoyed hunting and fishing.
When David was a young child, he was brought into the singing circle at the home of Sam and Dorothy Jackson in Lapwai. As a young child, David's love for singing was witnessed by his elder, Sam Jackson, and his sister, Tana. David would later sing with his brothers of the Lightning Creek drum. Lightning Creek was recognized in 2014, nominated for the Native American Music Awards Debut Group of the Year, and was invited to perform at the 15th annual Native American Music Awards in Salamanca, N.Y. David and the Lightning Creek singers sang a very old NiMiiPuu song, taught to them by Harry Slickpoo, at the awards. David and Lightning Creek grew up singing together and would be called upon for name-giving ceremonies, joining ceremonies, round dance events and funerals. Lightning Creek has been called upon to sing for many youth as they joined the circle or required the big drum for an honor song. David was a proud and loving member of Lighting Creek and formed many friendships while on the pow wow trail throughout the greater Northwest. The drum influenced many to start dancing.
In August 2004, David became the proud father of his son, Kendrick T. Wheeler, and in July 2006, David Lookingglass Wheeler Jr. joined their family.
David is survived by sons Kendrick Wheeler and David Wheeler Jr. (DJ) of Lewiston; mother Julia Davis-Wheeler; father Timothy "Al" Wheeler of Lapwai; older brothers Roderick Scott (Trisha Ellenwood) of Lapwai, and Derrick Scott; sisters Bernadette Hamby, LeAnn Mahaffey (Paul Mahaffey) of Green River, Wyo., and Channa Judith Medendorp (Timothy Medendorp) of Lapwai, Kami Wheeler of Spokane, and Tana Marie Wheeler-Nunez (Jesus Nunez) of Lapwai. David also had many cousins, nephews and nieces.
He was preceded in death by his paternal grandmother, Delores Lookingglass Wheeler, and maternal grandmother Hope Mildred Wheeler, who he loved with all his heart - and they returned his love triple. He also was preceded in death by paternal grandfather Timothy Robert Wheeler Sr. and maternal grandfather Rupert James Davis; and his two aunties, Julie Hart and Della Wheeler.
Dressing will be held at 1 p.m. today at Malcom's Brower-Wann Funeral Home, 1711 18th St., Lewiston with a memorial to be held at 6 tonight at the Pi Nee Waus Community Center in Lapwai. The funeral will be held at 10 a.m. Wednesday at the Pi Nee Waus, officiated by Mary Jane Miles. Burial will follow at the Second Indian Presbyterian Church cemetery on No Kidd Lane in Kamiah with dinner to follow at Wa A Yas Community Center in Kamiah.
Service Information
Date & Time

Wednesday, September 20, 10:00 AM

Location

Pi-Nee-Waus Community Center
99 Agency Rd.
Lapwai, ID 83540

Get Directions
Condolences
Theresa Vekich
My heart goes out to you and your family at this time of sadness. Sending prayers to you and your family. With my Deepest Sympathy. May He Rest In Peace, God Bless you and your family.
Sunday, October 8, 2017 1:10 AM
Linda Hutchins Taniguchi
I am so sorry to read this. My heart goes out to the family for their most precious loss of a child. May God watch over you and bring peace to you with his loving arms! May he rest in peace.
Saturday, September 30, 2017 12:02 PM
Offer Condolences