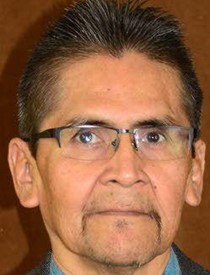 David Miles, Jr.
3/12/1949 — 6/2/2019
David James Miles Jr. also known as "Stone" and "Kubla Kahn," passed away on Sunday, June 2, 2019, surrounded by his family, at Kootenai Medical Center in Coeur d'Alene. He succumbed to complications of pneumonia. His Nez Perce name was Wat-yet-mas ya-one ya-one, meaning "moving swan." He was 70 years old.
David was born to the late Rev. David J. Miles Sr. and the late Beatrice Oatman-Miles on March 12, 1949, in Phoenix. David attended schools at Orchards Elementary, Sacajawea Junior High, Lapwai High School, Kamiah High School and Oakley High School in Idaho, and graduated from Echo High School in Echo, Ore., in 1968.
After graduating from high school, David attended Bacone College in Muskogee, Okla. He and Diane "Annie" Wasson were married at the Faith Tabernacle in Kamiah. They had their first child, Aaron, in December of 1969. They lived in San Diego while David was enlisted in the U.S. Navy. David served the Navy from April 1969 through September 1970. While at sea, he crossed the line and earned Ancient Order of the Deep rites in July 1969. David also received the National Defense Service Medal. After David's military service, the family returned to the Lewiston-Clarkston Valley. They then had three more children, Justine, Rebecca and Delores, and settled on Goldner Road near Lapwai to raise their family.
David began working for Potlatch Forest Inc.'s pulp and paper mill at Lewiston. He worked at the mill for several years, until he became employed as the community services manager for the Nez Perce Tribe in 1980. David was encouraged by his parents to earn a post-secondary degree to advance his career. He received a Bachelor of Arts in business administration from Lewis-Clark State College in 1982, and later transitioned into the Finance Department for the tribe as an accountant.
David left the tribe to work for the state of Washington Department of Social and Health Services at Clarkston to gain more experience as an accountant. During his employment there, he began working on a master's degree program at the University of Idaho, and later would attain a Master of Education from UI in adult and vocational education with a secondary teaching certificate in 1989.
David began teaching at Lapwai High School as a business education/study skills instructor. After teaching at Lapwai High School and Kendrick High School, he returned to work for the Tribal Employment Rights Office as an employment counselor in June of 1993. His work in TERO would eventually lead to his employment as the director for Nez Perce Vocational Rehabilitation Services. David was known as a leader and educator among different communities and his job allowed him to provide technical assistance to Nez Perce tribal members. He advocated for people in need and always sought different ideas for business development and economic growth of the Nez Perce people. He was a highly educated man who counseled many people throughout his career and gained many friends throughout his travels. After retiring from the tribe, he continued to help people in need, whether it was financial or just to listen to them. He donated to the homeless and was of service and a resource to people from all walks of life. He was working toward completing his doctorate at the time of his death.
Two of David's passions were to fish for salmon at Rapid River and to immerse himself into the basketball season on all levels. He often would go fishing with his brother-in-law, Jonesy Scott, and his first cousin, Kenny Oatman. They would go to different tributaries to fish as young men. He later taught his grandchildren how to fish and was always there to mentor them. He was a devout fan of the Lapwai boys' and girls' basketball teams, beginning back in the mid-1970s. He was proud of the state championship teams and he played a part in the development of the three-time, undefeated state championship teams of 1987, '88 and '89 (his son played on the '87 and '88 teams). David was known as a leaper and on the court, even as an old man, he could jump high. During the old days, Bob Sobotta Jr. would round up the guys to play ABA ball and David would be one of the guys he called upon.
His kids were part of championship teams at Lapwai High School for both the boys' and girls' basketball. In later years, you would find David, always behind the Lapwai Wildcat team bench, cheering on his granddaughters, his grandsons and his daughter, Rebecca, as the Lapwai Wildcat boys' basketball head coach. He would also support his grandkids on the Palouse who played for Moscow and Pullman high schools. Each of his grandchildren led their respective teams in several sports to the state playoffs and contributed to the championship trophies brought home.
David fell into his favorite role as a grandfather. He was a grandfather to many children. Bloodlines did not matter. He made any child who was close to his children or grandchildren feel at home and he took care of them. He was fondly called "Umpa" by many of the grandchildren.
As an employee of the Nez Perce Tribe, David was by far the largest financial contributor to the Employee Donation Fund for the Boys and Girls Club of Lapwai. He cared very deeply for the youth of our community and wanted to see them thrive. He encouraged his kids to use sports as a means to learn and be successful in life by transitioning into a career. David was an avid fan of all youth, encouraging them to pursue their education: in the classroom, on the field, on the court, in ceremony, on the river or in the mountains.
David was the kind of man who would give his last dollar to a perfect stranger if they needed it. He was a servant to his beliefs. He would often just stop by his children's workplace to pray for them. He was definitely one of a kind. Even when he was told not to keep dyeing his hair blue by his daughter, he continued to anyway.
He often read Bible scriptures to his kids and was a servant of the Lord. He believed in the power of God and prayed for his family every day. David was a member of Faith Tabernacle Church in Lewiston. He was mentored by the Rev. Raymond Tucker when Faith Tabernacle began at 10th and 10th in Lewiston. Later, David would often call on Pastor Greg Pedersen for prayer and counseling.
David was close to his maternal grandparents, Jim and Jane (Allen) Oatman of Kamiah, and his paternal grandparents, James and Mary (Penney) Miles of Sweetwater. As a Nez Perce, he was proud of his bloodline. He was a descendant of the Wallowa and Whitebird bands from his father's side, and was a direct descendant of Old Chief Lookingglass from his mother's family lineage.
Survivors include his ex-wife, Diane Mallickan of Sweetwater; a son, Aaron Miles Sr. (Julie), of Pullman; three daughters, Justine Miles Ramsey (Rich), Rebecca Miles and Delores Miles, all of Lapwai; and a sister, Mary Jane Miles, of Culdesac. David is also survived by eight grandchildren and one great-grandson and referred to them as his "8 Stones + 1." As a Rolling Stones fanatic he referred to his grandchildren as his stones. The grandchildren from oldest to youngest are Selina Miles, Celilo Miles, AJ Miles, Erin Ramsey, Tre Miles-Williams, James Joseph Miles, Ivory Miles-Williams, Jalisco Miles and his great-grandson, Riston Gary Johnson Miles, who was the "new caboose" for David. Many nephews and nieces also survive, whom he cared for dearly.
He was preceded in death by his parents, David and Beatrice Miles; sisters Mary Elizabeth Miles, Geraldine Miles-Webb, Loretta Burke-Scott and Anita Two Moons; and two brothers who died in infancy, Levi VanPelt Jr. and Theodore Burke.
A memorial service will be conducted 6 p.m. today, and a funeral at 10 a.m. Thursday, with Pastor Greg Pedersen of Faith Tabernacle Church officiating both services. The services will be held at the Pi-Nee-Waus Community Center at Lapwai. The burial will be at Jonah Cemetery at Sweetwater, with a dinner following at the Pi-Nee-Waus.
Malcom's Brower-Wann is handling the funeral arrangements. Flowers and cards can be sent to Malcom's Brower-Wann Funeral Home at 1711 18th St., Lewiston, ID 83501. You can send your thoughts and condolences to the family on the funeral home website at www.malcomsfuneralhome.com.
Service Information
Date & Time

Thursday, June 6, 10:00 AM

Location

Pi-Nee-Waus Community Center
99 Agency Rd.
Lapwai, ID 83540

Get Directions
Offer Condolences