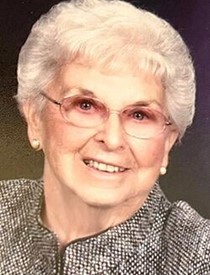 Darlene D. Hostetler
12/30/1925 — 5/4/2022
Darlene Dessie Hostetler, 96, of Asotin, passed away Wednesday, May 4, 2022, at Tri-State Memorial Hospital in Clarkston.
Darlene was born Dec. 30, 1925, in her grandmother's home in Clarkston. She was the third in line of eight children born to Art and Ellen Turner Earl. The family resided in Clarkston for a couple of years and then moved to Lewiston.
She was the only child in the first grade at Tammany School. She said it was a bit like being able to run wild while the teacher worked with children in other grades. She graduated from Lewiston High School in 1945.
Darlene worked in Grangeville for First Security Bank and then for the Lewiston Library.
Darlene met Bruce Hostetler when she cooked for the Wallace Halsey ranch in the summer while she was still in high school. Bruce and Darlene married when Bruce returned from the service in 1947. They made their home on Myers Ridge, where they farmed and raised Herefords with the T Diamond Dot brand. There was no electricity and no inside toilet for four years. Water was scarce, and they took baths in an old tub with water heated in a tea kettle. Her mom said she would never stay, but she loved it. It was so flat she could see the Blue Mountains, the Lewiston Hill and there were beautiful sunsets.
The nearest neighbors were Jim and Gwen Sangster. The two families were very close. Gwen remained Darlene's close friend until Gwen's passing.
Bruce and Darlene were blessed with a son Buck born on Thanksgiving in 1951. Their friends teased them with the name of Turk, but also with Buck — and Buck stuck.
Darlene was an artist in the kitchen. No one in the family has been able to duplicate the way she prepared a prime rib, and you should have seen her work magic on her gravy. She was known for her strawberry and apple pies, cinnamon rolls, red velvet cake and chocolate cake with white sticky frosting. She and Buck spent many hours in the kitchen together, and he is a good cook because of it.
Bruce and Darlene were also known for their hospitality in that same kitchen. Friends, family and equipment salesmen spent many hours around the table with cocktails and of course whatever wonderful food Darlene had prepared.
Bruce and Darlene retired to the family home in Asotin. She moved him one toothbrush at a time from the Ranch. In 1987, her granddaughter Riley Tess was born. She was the apple of her eye. Darlene spent many hours with Riley and also watched her after kindergarten for a few hours each day. They had a lasting friendship and bond to the end.
Bruce and Darlene enjoyed annual trips with friends to the National Finals Rodeo in Oklahoma and season passes to the Cougar football games. They were longtime members of the Elks club. Darlene was a longtime member of the Pollyette Club, a member of the Asotin Methodist Church, a lifetime member of the Asotin County Historical Society and was an Asotin County Fair royalty chaperone.
Darlene was preceded in death by her husband Bruce, Dad and Mom Art and Ellen Earl, brothers Art (Junior) Earl (Ilene), Howard Earl (Carole), Lee Earl, sisters Margalene Snider (Frank), Ena Mae Palmer (Blackie) and Sharon Randall (Ed).
She is survived by her son Buck (Lee Ann), granddaughter Riley, brother, Bob Earl (Barb), Virginia Earl, and Virginia Davis (John), Jo Earl, along with numerous nieces and nephews.
A special thanks to Jolene, who helped care for Darlene in her home and developed a wonderful friendship.
A celebration of Darlene's life will be held at 11 a.m. Friday, May 20 at the Holiday Inn (formerly Quality Inn) 700 Port Drive, Clarkston
Malcom's Brower-Wann Funeral Home of Lewiston is in charge of the arrangements.
Service Information
Date & Time

Friday, May 20, 11:00 AM

Additional Details

A celebration of Darlene's life will be held at 11 a.m. Friday, May 20 at the Holiday Inn (formerly Quality Inn) 700 Port Drive, Clarkston
Offer Condolences