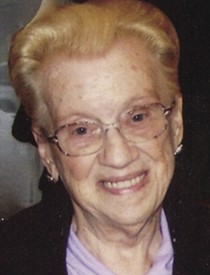 Clara (Maxine) Hewett
11/28/1921 — 8/4/2017
Clara "Maxine" Hewett passed away peacefully Friday, Aug. 4, 2017, in her home, surrounded by her loving family.
She was born Nov. 28, 1921, on Webb Ridge, to Oscar and Clara Carpenter. Maxine attended Snow School and Flat Iron School on Webb Ridge, Lewiston High School and Jefferson High School in Portland. She attended Lewiston Business College, where she met the love of her life, Lewis Hewett, who she married in January 1942. They made their home at Webb Ridge on the ranch. Later, they built their home at Spalding.
Maxine worked for Montgomery Ward at Lewiston in 1942 for one year, and from 1950 to 1964 as a bookkeeper for her father at the Oscar Carpenter Lumber Co. at Lewiston. From then on, she was bookkeeper for Hewett Ranch Inc. She was a member of the Lapwai Community Club, Presbyterian Church and the Lapwai Grange.
Maxine and Lewis traveled the world together by plane, cruise ship and motor home. She enjoyed traveling, dancing, sewing, crafts and spending time with her family. Her family will miss "Grandma's famous sweet pickles," which she found great pride and joy in making.
Maxine was preceded in death by her parents; sister Alice; son Gary; daughter Linda Calkins; and husband of 70 love-filled years, Lewis. She is survived by sons Brad (Phyllis) and Ronald (Pepsi); son-in-law Gene "Tinker"; 10 grandchildren; 27 great-grandchildren; and four great-great-grandchildren.
A graveside service will be held at 10 a.m. Monday at Normal Hill Cemetery for a celebration of Maxine's life.
Service Information
Date & Time

Monday, August 7, 10:00 AM

Location

Normal Hill Cemetery
1122 7th Street
Lewiston, Idaho 83501

Get Directions
Offer Condolences