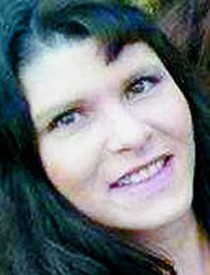 Cindi Stockard
6/14/1970 — 5/28/2017
Cindi Ann Stockard, the daughter of Bill and Judy Ferro, was born in Seattle June 14, 1970. She died in Kendrick on May 28, 2017.
Cindi's family moved to Caldwell in 1976, where she grew up among a large, loving extended family. Cindi attended Caldwell schools, acted with Snake Basin Drama and competed as a member of the Caldwell Swim Team.
Cindi attended Boise State University and then the University of Idaho and earned her bachelor's degree in wildlife biology in December 1999. Contacts Cindi made as a leader of the U of I's Native American organization helped her find her birth-mother, Judith Gearhardt, then of May, Idaho. Knowing her and several half- and step-siblings enriched Cindi's life.
Cindi and Joe Stockard became lifelong partners in 2002. Siblings from all her families joined in celebrating their marriage on Oct. 2, 2010.
Whenever possible, Cindi spent much of her life sharing her love of nature and crafts with her daughters: Amanda, Brandi, Catanah and Dakotah. She treasured every minute she had with her six grandchildren. She held this saying dear: "Families are the roots of life. Hope is their seed. Faith is their rain. Love is their sun."
Cindi was a loving and caring soul and would take the extra steps needed to help someone in need. She shared her knowledge of nature freely. She and Joe cared for a variety of animals and loved each one.
Cindi had a variety of jobs through the years, including working for the Nez Perce Tribe and the U.S. Post Office. Most recently, she was manager of the swimming pool and a substitute teacher in Kendrick.
She was preceded in death by her father, Bill Ferro; and her birth-mother, Judith Gearhardt.
She is survived by her husband Joe; her four daughters, Amanda Cayler, Brandi Reid, Catanah Ferro and Dakotah Stockard; her stepchildren, Melanie Stockard, Casey Stockard and Cody Stockard; her grandchildren, Vivian Wood, Mark Reid, Ruby Stockard, Nathan Burnett, Kylie Stamper and Lucas Stockard; her mother Judy Ferro; her sister Toni Ferro; and numerous other members of her adopted and birth families.
The family requests that, in lieu of flowers, friends donate to the Kendrick swimming pool fund by sending donations to the Kendrick War Memorial Fund at Kendrick City Hall, Kendrick. Please specify it is for the pool.
A celebration of life will be held from 6 to 8 p.m. on Saturday, June 24 with swimming at the Kendrick Pool and a potluck and slideshow at the Grange Hall, 614 E Main St., Kendrick.
Offer Condolences