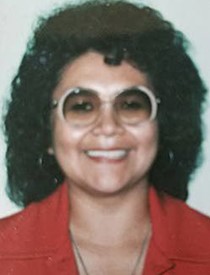 Chloe Halfmoon
6/14/1939 — 6/21/2019
Chloe Agnes Halfmoon, "Peh-youn-na-nikt," 80 years old, passed away peacefully at St. Joseph Regional Medical Center in Lewiston.
Chloe was born June 14, 1939, in Lewiston to Richard A. and Nancy J. Halfmoon. Richard Halfmoon was inducted into the U.S. Army and served in the South Pacific during World War II. This led mother Nancy and young Chloe to relocate to Portland, Ore., where Nancy supported the war efforts as a riveter on the ships of war. Once the war was over, the family returned to their home in Lapwai.
Chloe was baptized and attended Bible school at Spalding and the Cole Church. Chloe attended the Lapwai School District and graduated with the Class of 1957. After graduation, Chloe went to Haskell Institute in Lawrence, Kan. Chloe also attended night school at Lewis-Clark State College.
While in college at Haskell, she met Russel Calfrobe of Browning, Mont. They later married and moved to Browning, Mont. In 1960, Chloe gave birth to her first child, Richard Frances. Russel and Chloe relocated to Oregon City, Ore. In 1962, they welcomed their second child, Joseph Darrin. Their marriage later ended in divorce and Chloe and her sons returned home to the Lapwai area.
Chloe worked various positions within the Lapwai School District as a teacher's aide and taught Nez Perce language. Chloe began her position at the Bureau of Indian Affairs that transitioned into a job with Nez Perce Tribal Law Enforcement.
A friendship was reconnected with Delbert Ellenwood, of Kooskia, after he returned from the U.S. Army. Through their marriage came the birth of her third child in 1964, Cedric Wayne Sr. In 1965, Chloe gave birth to her first daughter, Deleen Ann. In 1967, Chloe gave birth to her second daughter, Diana Agnes. In 1977, Chloe welcomed her last child, Charlotte Hattie.
Chloe was a member of the Spalding Presbyterian Church in Spalding. Chloe was a vice president for the Spalding Presbyterian Church with the Talmaks Presbyterian Committee in Craigmont. Chloe was also a member of the Chief Joseph & Warriors Memorial Committee. Chloe enjoyed fishing, attending powwows, playing Wah-luuks and "OG." She also enjoyed hunting; playing bingo and gambling; playing solitaire and hearts; taking drives with family; dancing (in her younger years); cooking; and watching her grandchildren's sports.
Chloe was preceded in death by her maternal grandmother, Hattie Carl Jackson; her paternal grandmother, Mabel Nesbitt; Chloe's parents, Richard and Nancy Halfmoon; her sister, Elena Halfmoon; Chloe's sons, Joseph Darrin and Cedric Wayne Sr.; Chloe's granddaughter, Sunny Jo; her niece, Elena Ida Jo Halfmoon; her aunt, Esther McAtty and uncle, Abel McAtty.
Chloe is survived by her son, Richard F. Calfrobe, of Browning, Mont.; her daughters, Deleen Ellenwood, of White Plains, N.Y., Diana Ellenwood, of Lapwai and Charlotte Ellenwood, of Lewiston; Chloe's 14 grandchildren and 14 great-grandchildren.
Viewing will be at 10 a.m. today at Malcolm's Brower-Wann Funeral Home in Lewiston. Funeral services will be held at 10 a.m. Wednesday at the Pi-Nee-Waus Community Center in Lapwai. Malcom's Brower-Wann Funeral Home of Lewiston is in charge of arrangements.
Service Information
Date & Time

Wednesday, June 26, 10:00 AM

Location

Pi-Nee-Waus Community Center
99 Agency Rd.
Lapwai, ID 83540

Get Directions
Condolences
marjorie waheneka
My sincerest condolences to the family of a woman I come to know in the early 1970's. At that time she was working with high school students starting a drum group, dancing and we met at EWU in Cheney WA. She was always happy to see me when we met and we would visit, I will miss her smile and hugs. God Bless all of you left behind, take care.
Tuesday, June 25, 2019 9:53 AM
Offer Condolences