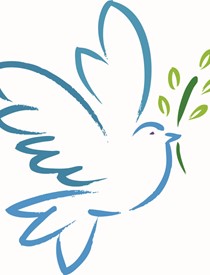 Cheryl Roach
5/19/1949 — 6/1/2018
May 19,1949 - June 1, 2018

Our sister, Cheryl K. Roach, passed away at our Genesee homestead Friday, June 1, 2018, after a brief, albeit aggressive, battle with cancer. In true tradition of Cheryl, she chose to write her life story.

"According to numerology I was most likely conceived on Thursday, Aug. 26, 1948. I was born in the Chinese Year of the Ox, May 19, 1949; a Thursday's child in a Leo moon with Sagittarius rising and a Taurus sun sign; my ruling planet Venus ... A child of the '60s, a baby boomer and all that.

"Grateful to be born to Wayne and Mercedes (Smolt) Roach, as luck would have it ... their favorite child of five. Lucky to have Duane, Karol, Nyla and Jay as siblings and to call Genesee my home (time and time again), especially when I would return to heal from life's ups and downs.

"Grateful to be educated by Benedictine nuns; a 1967 graduate of St. Gertrude's Academy, Cottonwood, where lifelong friendships were established with fellow students and teachers alike.

"Grateful for all the people I met and with whom I worked during a 22-year newspaper career beginning at the Lewiston Morning Tribune when A.L. (Butch) Alford was at the helm. Lucky to end my career at the Peninsula Daily News, Port Angeles, Wash., with yet another great editor and friend, Frank Duccesschi. I have truly missed the friends and co-workers from those print days, and I am most thankful for those who stayed in touch for so many years.

"Port Angeles ... I loved Port Angeles ... never too hot, never too cold, clear air, roses and rhododendrons grew in the same flower bed, primroses are perennials. I even loved the smells of a mudflat at low tide. Then there was the salt water ... albeit cold salt water. I learned to scuba dive in those cold, rich, green Pacific waters of the Strait of Juan deFuca; I liked it so much I did it over 800 times. I documented a great deal of the flora, fauna and underwater critters with cameras and lights.

"I returned to Idaho just in time to watch nephews and nieces Brad, Al, Josh, Krista, Jessica and Brandi take first steps to adulthood, create lives, careers, find love and have children of their own.
"Switched my focus; attended chef school, then began a catering company, adding a sandwich shop and a wholesale baking business. My customers were the best.

"Grateful, too, for the dream job of being house director for Kappa Kappa Gamma at the University of Idaho, August 2014 until retiring May 2017. While managing house staff, daily operations and maintenance, I became a mentor and confidant to the lovely ladies attending school. I truly relished the relationships we shared and consider this position as my favorite.

"I was really lucky when in 2001 I was found by one of those former high school pals, Lanny Rose. He convinced me to chuck my 'cheffing' and marry him. Before that could happen, luck ran out and Lanny died in early February 2005. He left me with a bonus family: his parents, Dale and Marge Rose, may they rest in peace; sisters Susie, Sandi and Nancy; and brothers Kevin, Dan and Mike; Lanny's daughter, Toni, and her beautiful children, Alex Wolf and Delaine; plus granddaughter Addley Rose; and Lanny's adopted son, Sean Rose.

"Lanny left me in the safekeeping of the good citizens and neighbors of Nezperce, where I had a home, his dog, Buddy, and a chance to heal before moving on.

"The Taurus (ox) moved me toward independence with strong convictions. Venus helped me to nurture friendships, be affectionate and seek out interesting and interested people. With a soul-urge No. 4, I would strive for stability, tend to follow rather orderly patterns (OCD - nay), use a systematic approach, strive for excellence at organization, systemizing and establishing order; be reliable, practical, honest and sincere. The downside could be stubbornness ... What? Who, me?

"All that aside, I do have regrets. I regret not finishing nursing school, not being able to sing or play a musical instrument; having never won the lottery (oh, I had such plans for that money); I regret my body betraying me so. I was too idealistic, too easily disappointed by the lack of professionalism of some politicians, actors and sports greats ... people of and with the means to change the world and did nothing. I regret not becoming a marine biologist or a lawyer. I railed at God when good friends and loved ones died way too early ... ahead of my schedule. I have missed their bright smiles and familiar faces as I had to grow old without them.

"In closing ... I quote Mary, Queen of Scotland and the Isles: 'Farewell family and good friends all. If I have done you any wrong, pray, forgive me.' - Cheryl"

At Cheryl's request, there will be no service. For anyone so inclined to provide memorials, please consider the Alzheimer's Association, American Cancer Society or St. Joseph Family Hospice in Lewiston.
Condolences
RICK AND DIANA ARNETT
Dear Tedi and family,
We are so sorry to hear of your loss. Your family is in our prayers.
Sincerely,
Rick and Diana Arnet
Friday, June 15, 2018 9:22 PM
Debora Bailey
I am truly sorry for your loss, please accept my sincere condolences. I hope the Roach family find comfort and strength in Jesus promise along with our heavenly father Jehovah of the earthly resurrection, where death will be eliminated forever. Truly, what a glorious and almost unbelievable day that will be! It's a reality though for God cannot lie!
Monday, June 11, 2018 8:47 AM
Offer Condolences