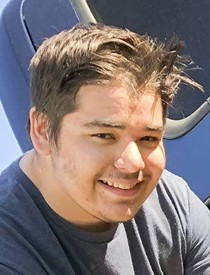 Charles Shively
1/13/2001 — 12/25/2020
On Christmas night, Dec. 25, 2020, at around 10:15 p.m., our precious, amazing son, grandson, brother, nephew, cousin and friend Charles Edmund Shively left this Earth by suicide.
He was born Jan. 13, 2001, at Sacred Heart Medical Center in Spokane to Sarah and Michael Shively. He was a twin brother to Daniel, who died in utero at 24 weeks. He joined his older brother, James Shively. In 2004, his younger brother, Aaron, was born, and this completed the trio of brothers and best friends that they would be forever. They would be collectively referred to as "the boys" by their parents, grandparents, Auntie Mur and everyone who knew them. A little sister, Clara, came along four years ago, and Charles adored her as she did him.
Charles was born six weeks early after a stay in the antepartum unit at Sacred Heart by his mom, and with the constant presence and support of his father and big brother, and grandparents. He was tiny but healthy and quickly grew, making up his size in no time. Over the course of his childhood, he overtook his older brother and eventually grew to be a 6 foot, 3 inch gentle giant. He started as the smallest and grew to be the biggest of the brothers.
Charles's childhood was a rich, varied adventure of living and moving with his parents to various areas around the Northwest and even California. He and his brothers made so many memories as young boys playing, imagining and adventuring together wherever they were. His school career was, well, all over the place. He started school at Evergreen Elementary in Moyie Springs, Idaho, and went on to attend school at West Park in Moscow, a brief stint of homeschooling while his family was traveling in California, Peck and Orofino elementaries, Jenifer Junior High and LHS in Lewiston, Lincoln Middle School in Pullman, and finally graduating from Pullman High School.
Charles was an intellectual. He was extremely intelligent, and one of his favorite pastimes was reading. He was a prolific reader starting from an early age; he read above his age level and by second grade had read the entire Harry Potter series, as well as several other series that were geared toward older readers. In fifth grade, he read "War and Peace." His love of reading continued beyond his school years, and his co-workers often found him reading classic books on his downtime at work. Charles also enjoyed chess; he belonged to the chess club at Pullman High School and also played chess or poker with his friends.
He loved being outdoors, fishing, collecting and shooting guns, playing video games — often doing these things with his brothers and his friends. He loved to watch shows. He and his mom would pick a series and watch it together, and he loved to watch TV and movies with his brothers, dad and Holly. He would have lively conversations about everything from politics to history, and would always inject his particular brand of humor and unique perspective. More recently, he had begun collecting watches; he appreciated the simple ingenuity of their movements and the durability of their faces crafted of tempered mineral or sapphire. Charles loved to dress well; he had a collection of polos and khakis for work, and he had Stetson hats, a leather jacket he got from his brother, James, and cowboy boots, which he wore when he was out and about.
Charles began working at St. Joseph Regional Medical center in Lewiston in March of 2020 as a patient safety attendant. In fact, he was the first person hired to this role, and this was an exciting and proud moment for him. Charles's job entailed sitting with and monitoring patients who for different reasons could not be left alone, and he did an amazing job. He was excellent at therapeutic communication and often made a genuine difference for these patients with his quiet, calm and comforting presence. He also made friends, and even a work family, with his co-workers, who loved him dearly and appreciated his dedication and amazing work ethic and his kind and often humorous personality.
Charles had a whole group of friends who loved him and who he spent so much time with. He shared many experiences with them, starting from middle school, including Nick, Spencer, Tyler, Josh and Jerry in Lewiston, and Zoel and Hayden in Pullman.
Charles was preceded in death by his identical twin, Daniel.
He is survived and beloved by his parents, Sarah (Mike) Chapman and Mike (Holly Ashkannejhad) Shively; brothers James (Susan) Shively and Aaron Shively; sister, Clara Chapman; grandparents Maria and Alan Shively and Kay and Richard Stone; uncle Matt (Camille) Shively and aunts Elena (Joey) Trevino and Mary Stone; cousins Alex and Alicia Trevino, Mattea Shively and Jake and Josh Tatko. And numerous friends and co-workers who cared deeply for him as well.
Charles was so incredibly loved, and will be forever missed.
His family asks anyone who is struggling or knows someone who is to please call the National Suicide Prevention Lifeline (800) 273-8255. Donations can be made to the lifeline at www.suicidepreventionlifeline.org/donate.
Cremation has taken place through Malcolm's Brower-Wann Funeral Home in Lewiston. There will be a celebration of Charles's life from 1-4 p.m. Wednesday, on his birthday, at Wawawai County Park campground, where people can be outdoors and observe social distancing. Everyone is welcome.
Service Information
Date & Time

Wednesday, January 13, 1:00 PM

Location

Wawawai County Park
13501 Wawawai Road
Colton, Washington 99113

Get Directions
Condolences
Corbin Wickizer & Denise Allen
Our hearts go out to you for your devastating loss. Corbin met Charles at Pullman High, and was in Chess Club with him. Before the Pandemic, Corbin, along with other friends would spend many weekends hanging out at Charles' talking, playing video games and having fun. I knew Charles as a nice young man whom had friends that really liked him. My heart hurts for all of you, and my prayers are with your family. Corbin will miss him terribly.
Sunday, January 10, 2021 3:46 PM
Offer Condolences