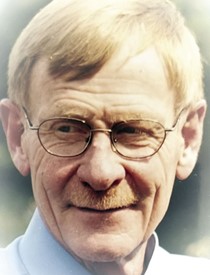 Charles Odenborg
10/4/1945 — 12/10/2017
Charles S. "Sandy" Odenborg was born to Delos C. and Doris J. Odenborg on Oct. 4, 1945, in Moscow, and grew up on the family farm in Genesee with his five brothers. In 1963, he graduated from Genesee High School and attended the University of Idaho. On Aug. 26, 1966, he married Daphne Taylor in Lewiston, and they lived and raised their family in Moscow and Genesee.
Sandy's way with people was infectious and it created a loving cadre of customers who followed him throughout his career in sales. He was a member of the Idaho National Guard and the Washington Air National Guard, retiring after 22 years of service with the rank of master sergeant. The couple moved in 2001 to Lewiston, where he worked for Valley Transit as the maintenance supervisor and a driver. He retired in October 2010.
He was a pilot and an auxiliary police officer in Moscow. He served on the University of Idaho's Vandal Boosters board of directors, and was a long-term member of the Genesee Booster Club. He also was a member of several civic organizations throughout the years, and immensely enjoyed bowling later in life in both Lewiston and Clarkston leagues.
Sandy loved camping, fishing, hunting and spending time with his family and friends, especially at our cabin at Benewah Lake. He was an avid sports fan and enjoyed any game with the Mariners, Seahawks, Gonzaga Bulldogs, UI Vandals and Genesee Bulldogs.
He is survived by his mother, Doris Odenborg of Pullman; five brothers, Neil (Linda) of Genesee, Laune (Terry) of Moscow, Alan (Stephanie) of Moscow, Steve (Julie) of Genesee, and Kevin (Sandra) of El Paso, Texas. He also is survived by his wife, Daphne, of Lewiston; two sons, Erik (Cathy) Odenborg of Snohomish, Wash., and Brian (Erika) Odenborg of Genesee; and daughter Lisa (Brad) Batterton of Genesee. He also is survived by 12 grandchildren, a great-grandson and numerous nieces, nephews and cousins.
He was preceded in death by his father, Delos Odenborg.
In lieu of flowers, memorials may be sent to the Genesee Fire Department or the Genesee Education Foundation.
A celebration of life will be held at 1 p.m. Jan. 5 at the Genesee Senior Center, 140 E. Walnut Ave., Genesee.
There will be a private graveside service at the Genesee Valley Lutheran Church.
Service Information
Date & Time

Friday, January 5, 1:00 PM

Location

Genesee Senior Center
140 E Walnut Avenue
Genesee, Idaho 83832

Get Directions
Offer Condolences