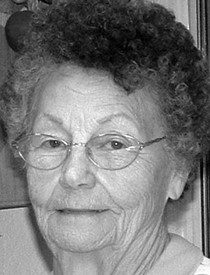 Charlene Bailey
4/9/1925 — 4/10/2016
Charlene Mae Bailey of Wellton, Ariz., was lifted up to heaven the day after her 91st birthday on April 10, 2016. She was born to James and Gladys (Paul) Keller on April 9, 1925, at Craigmont. Charlene was the third of nine children in the family.
Charlene lived at Craigmont, Culdesac and Lewiston the majority of her life, attending Weaskus, Whitman, Garfield schools and Lewiston High School. As a young woman, she worked as a waitress until World War II started. She was delighted to serve her country as a "Rosie the Riveter" in the Boeing factory in Everett, Wash., and the shipyards in Alameda, Calif. She returned to Lewiston, where she fell in love with U.S. Army Air Corps pilot Charles (Chuck) Bailey. They were married Dec. 27, 1945, in the Methodist Parsonage.
Military life took them to St. Charles, La., where the humidity did not agree with her and she returned to Lewiston to have their first child, James. Charlene continued to waitress at numerous eateries in Lewiston, including the 1616 Inn. Their second child, Karen, followed in 1956.
Her passion in life was to take care of her family. She was a loving daughter, wife and mother. Charlene enjoyed camping, family picnics, golfing, bowling and snowbird traveling to visit family and friends. The couple eventually settled in Wellton, Ariz., in 1995.
Charlene has now been reunited in heaven with her husband of 65 years, parents and siblings. She was preceded in death by her husband, Charles; brothers James, Ronald and Delroy Keller; sisters Gloria Darlene Turnley and Bonnie Eller. Survivors include sisters Myrtle Bean of Lewiston and Patricia (John) Wane of Yakima; brother Daniel Keller of Buckeye, Ariz.; son James (Victoria) Bailey of Clarkston; and daughter Karen (Don) Ottinger of Hondo, Texas; as well as six grandchildren, 17 great-grandchildren and four great-great-grandchildren.
At Charlene's request, there will be no formal service. Chuck and Charlie's remains will be joined together for eternity and interned at Normal Hill Cemetery, Lewiston. Arrangements have been made by Malcom's Brower-Wann Funeral Home.
The family would like to express their deepest gratitude to Tri-State Memorial Hospital, Dr. Collins, and Life Care Center of Lewiston. Charlene was a member of Orchards United Methodist Church. Donations can be made to Meals on Wheels or a charity of your choice.
Charlene will be dearly missed by all, but we believe God needed her more. A poem expresses our feelings:
God looked around his garden,
And found an empty space,
Then he looked down upon this Earth,
And saw your tired face.
He put his arms around you,
And lifted you to rest,
God's garden must be beautiful,
He only takes the best.
Offer Condolences