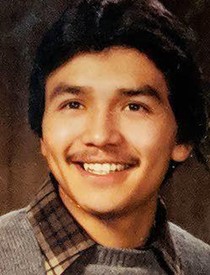 Cedric Ellenwood, Sr.
3/13/1964 — 2/21/2019
Cedric Wayne Ellenwood Sr., 54, Nez Perce tribal member and Lapwai resident, died Friday, Feb. 21, 2019, at St. Joseph Regional Medical Center in Lewiston.
Cedric was born March 13, 1964, in Lewiston, to Delbert Ellenwood and Chloe Halfmoon. Cedric was baptized at Stites Presbyterian Church in Stites in 1964 by the Rev. Walter Moffett. Cedric attended Talmaks Church Camp growing up and was a member of the Spalding Presbyterian Church.
As a child he grew up attending Lapwai School District. Growing up, he played Little League baseball and loved riding his motorcycle. In high school, he enjoyed playing basketball and football, as well as playing his trumpet in LHS band. Cedric was known as an avid skateboarder and took an interest in the study of martial arts.
On March 17, 1983, he married Sheila Roberts. Together they had four children. That marriage later ended in divorce. Cedric was a heavy equipment operator and also attended classes for welding.
Cedric later had a love for golf and was one of the top drivers. He was a traditional fisherman at Rapid River and Ahsaka. He shot his first elk at a young age and later taught his sons how to hunt and fish.
Cedric is survived by his parents, Delbert Ellenwood and Chloe Halfmoon, of Lapwai; brother Richard Calfrobe of Browning, Mont.; sister Deleen Ellenwood of White Plains, N.Y.; sister Diane Ellenwood of Lapwai; sister Charlotte Ellenwood of Lewiston; daughter Latonia Ellenwood of Seattle; sons Cedric Ellenwood Jr., Theo Ellenwood and Apollo Lawyer of Lapwai; granddaughter Kiara Boycan of Seattle; grandsons Kurtis Ellenwood and Rashawn Ellenwood of Pocatello; grandson Alex Graves Jr., of Fort Hall, Idaho; and many nieces and nephews.
He was preceded in death by his grandparents Richard and Nancy Halfmoon, Eugene Ellenwood and Bertha Stevens-Webb; daughter Sunny Jo Ellenwood; and brother Joseph Calfrobe.
Funeral services will be at 10 a.m. Monday, Feb. 25, at the Pi-Nee-Waus Community Center in Lapwai, with burial to follow at the Spalding Presbyterian Cemetery and a dinner to follow at the Pi-Nee-Waus center. Malcom's Brower-Wann Funeral Home of Lewiston is in charge of the arrangements.
Service Information
Date & Time

Monday, February 25, 10:00 AM

Location

Pi-Nee-Waus Community Center
99 Agency Rd.
Lapwai, ID 83540

Get Directions
Offer Condolences