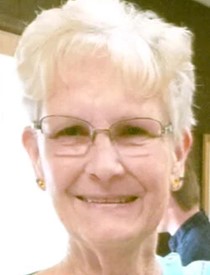 Carol J. Webb
2/13/1950 — 3/7/2023
Tuesday morning, March 7, 2023, after 53 years of marriage, my wife Carol went home to heaven after a five-year battle with pancreatic cancer, with family members and her little Tippy by her side.
She was born Feb. 13, 1950, to Clarence and Geraldine Schemel at Lewiston, and was preceded in death by her daughter Cody Rae, parents Clarence Schemel and Geraldine Sippola, half-brother Kenny Pearson, stepmother Marjorie Schemel, stepbrother Jack Maynard, and stepsisters Bonnie Greer and Marianne Tripp.
Carol is survived by myself, John; our oldest son Shawn and his boys Trent (Sydney), Rhett, Jake, and girl Shania; our daughter Natalie Rhoads and her husband John along with their boys Kurt, John Duke, Cody, and girls Marissa and JoEllen (Sean); and our youngest son JD and his wife Jenie, their young boys Gage, Trigger, and little girl Rebel; and five great-grandchildren, Mylie, Wyatt, Preslie, Peytyn and Paxton. Also surviving are stepsister Sue (Ed) Smith and stepbrother Mike Fignani.
Carol graduated from Lewiston High School in 1968, and St. Joseph Nursing School and then left the city to join me on the farm on Nov. 28, 1969. She became an expert at canning, leading show bulls at various sales events, delivering calves at 2 a.m. and pitching manure with a five-tine fork. She began her long nursing career at St. Joseph's Hospital in 1983, became Dr. Roles nurse at Valley Medical Center in 1990, and later on for the wonderful group of medical professionals at the Interventional Pain Clinic until her retirement 10 years ago. She baked brownies, carrot cake and cookies for doctors, nurses, friends, and even Les Schwab and MacGregor Chemical employees. One of her last greatest loves of accomplishments was her participation in the Craigmont Quilts of Valor effort to honor veterans.
Cremation of her remains has taken place and she will be laid at rest with her beloved daughter Cody at the Reubens Cemetery.
Services for my wonderful Carol will be at 2 p.m. Saturday, March 18, at Malcom's Brower-Wann Funeral Home, 1711 18th St., Lewiston, a lunch will follow at 4 p.m. at Good Hope Lutheran Church Parish Hall, east of Gifford on German Settlement Road. If convenient, please bring a salad or dessert. Carol requested no black be worn to her service, colors or Tie-dye would be appropriate.
Service Information
Date & Time

Saturday, March 18, 2:00 PM
Offer Condolences