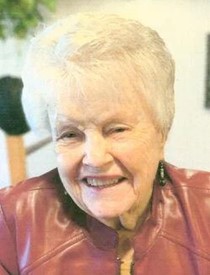 Carmonetta Cox
11/19/1926 — 5/11/2022
Carmonetta was born Nov. 19, 1926, to Jack and Iva Travis in Chambersville, Ark., and she passed peacefully at her home in Clarkston, Wash., on Wednesday, May 11, 2022.
Carmonetta's father was a military man of Tennessee and her mother was an active member of a Wild West show family of Oklahoma. They were a dashing pair.
It was a time of challenges and severities between the Roaring '20s and the Great Depression. Much want and much illness, especially in the rural southeast of Oklahoma and Arkansas. Carmonetta lost both her parents to tuberculosis; her father when she was 3 years old and mother when she was 14. However, she was fortunate to have a large and active family in Oklahoma in the form of her maternal grandmother, Chandler, and her four daughters (aunts to Carmonetta), at ages immediately above hers, 16 through 20 years old. At 14 years old, she joined this Wild West show family and followed in her mother's footsteps, participating in the business. She matured and prospered.
During weekend gatherings for music, dancing and ice cream at the Chandler Farm, Carmonetta met a tall, shy, good-looking farm boy named Hyrum Cox. They sparked, danced, dated and married in 1943. Theirs was a love story that spanned 78 years.
Carmonetta and Hyrum left rural Oklahoma following his discharge from the Navy in 1945. He had uncles on the West Coast in the logging and sawmill businesses. After the war, the business climate promised more opportunity there than in Oklahoma. When they arrived the mills were on strike, so Hyrum took a job pushing a concrete buggy lining irrigation canals. There began their lifelong pursuit of civil construction. Carmonetta and Hyrum followed and prospered in the road building business from 1945-85, culminating in them acquiring Steelman-Duff in 1985, and over the next 32 years growing it into a very large three-state road builder. Carmonetta ran the office and Hyrum ran the field. They managed a staff of 150 people at the height of the operation in the year 2000. At various times, four of the five family generations worked for their company. The final dispersal of the firm occurred in 2017. She was 90 and he 91. Her beloved Hyrum passed a mere eight months before her passing and one day after their 78th wedding anniversary.
Carmonetta leaves three children: Jerry (Donna) Cox, of Meridian, Idaho, Judy (John) Macy, of Asotin, Wash., and Lynn (John), of McMinnville, Ore. In addition, four grandchildren, seven great-grandchildren and six great-great-grandchildren.
A memorial service will be held for Carmonetta from 11:30 a.m. to 12:30 p.m. Monday, May 23, at Malcom's Brower-Wann Funeral Home, 1711 18th St. No. 4044, Lewiston, Idaho. A reception will follow at a location to be announced following the service.
Service Information
Date & Time

Monday, May 23, 11:30 AM

Location

Malcom's Brower-Wann Funeral Home
1711 18th Street
Lewiston, ID 83501

Get Directions
Offer Condolences