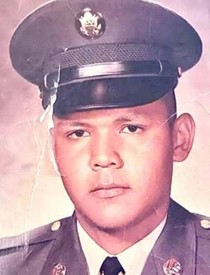 Calvin Joye
3/19/1949 — 8/29/2023
Calvin Wesley Joye was a fine man, father, brother, uncle and friend.
Calvin was raised, attended school and stayed within the upriver communities of Ahsahka, Orofino and Kamiah.
He entered the U.S. Army as a young man and served in the Vietnam War.
Calvin had a few major relationships, from which he had two children.
Calvin was close to his siblings and their families. He was an avid fisherman. He liked to do beadwork and make bustles.
In the late 1970s, he took part in the Indian Relocation Act, he commuted his family to Oakland, Calif., where he attended trade school and became a certified electrician. He was an outgoing, fun-loving guy and made new friends anytime, anywhere; during which time, he brought home a dinner guest to meet his family, none other than legendary native activist, John Trudell.
Calvin spent most of his time on the Clearwater River and the Columbia River. As mentioned, he loved to fish and to visit fellow fishermen.
Calvin is preceded in death by his parents, Joseph and Sally Joye; sister Ilene Joye; and brothers Marvin Joye and Melvin Joye.
His survivors include: daughter Trina (Tom) Rogers; daughter Wenona (Adolph) Laso-Scott; sister Darlene Joye; sister Marlene Walker; sister Ida Joye, and many nieces, nephews and cousins.
Viewing will take place from 2-4 p.m. Friday, Sept. 1, at Malcolm's Brower-Wann Funeral Home, 1711 18th St., Lewiston.
Services will be held starting at 9 a.m. Saturday, Sept. 2, at Pi-Nee-Waus Community Center, 504 Main St., Lapwai, with the burial to follow at the Lapwai Tribal Cemetery, concluding back at the Pi-Nee-Waus Community Center for dinner and sharing.
Service Information
Date & Time

Saturday, September 2, 9:00 AM

Location

Pi-Nee-Waus Community Center
99 Agency Rd.
Lapwai, ID 83540

Get Directions
Offer Condolences