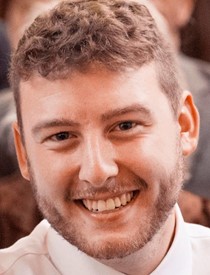 Cal Heinen
2/15/1996 — 11/21/2019
That smile. That laugh.
Cal Daniel Heinen, 23, was suddenly taken from us Thursday, Nov. 21, 2019, from a fentanyl-laced pill.
Cal was born to Aaron and Di Heinen, of Kendrick, Feb. 15, 1996. He was named after Cal Ripken Jr., and just like the Iron Man, held many nicknames.
He grew up in Kendrick, surrounded by family and friends. Our family took many vacations together, but Cal's favorite place was Seattle, where he always dreamed of living in the big city. This dream became his reality for the past six months.
Some of Cal's accomplishments include being a part of the graduating class of 2014 from Kendrick High School, and graduating from the University of Idaho in 2018 with a Bachelor of Science in broadcasting and digital media.
His endearing love for music and movies will always hold a special place in our hearts.
Cal will be missed beyond belief by his parents; his sister, Holli; his grandparents, Phil and Donna Heinen, of Kendrick; and his grandparents, Maury (deceased) and Vera Baumgartner, of Seattle. Cal leaves behind a huge loving family and many friends who he treasured.
"As a man, I'm flesh and blood. I can be ignored. I can be destroyed. But as a symbol — as a symbol I can be incorruptible. I can be everlasting." — Bruce Wayne (Batman)
A remembrance service for Cal will be held at 11 a.m. Saturday at Echo Hills Church, 3215 Echo Hills Drive, Lewiston.
In lieu of flowers, remembrances in Cal's name may be sent to the KJ7 Education Foundation. Go to www.kj7educationfoundation.org or send to KJ7 Education Foundation, P.O. Box 503, Juliaetta, ID 83535.
Service Information
Date & Time

Saturday, December 14, 11:00 AM

Location

Echo Hills Church
3215 Echo Hills Drive
Lewiston, ID 83501

Get Directions
Condolences
mia stauffer
My heart is broken with yours and I pray that God's peace will bring you comfort in your pain. Love and prayers from all of us at Michlitch.
Monday, December 16, 2019 4:52 PM
Sue Norlin
Dear Di, Aaron, Holi, and all family, I am want to send my condolences and express how heartbroken I am for your loss of Cal. Phil and Donna have always shared stories about how proud they were of Cal, as they did with all of their kids and grandchildren.
Donna shared the tragedy of Cal's death. She asked that if I ever had the opportunity to share Cal's story I would, in hopes of preventing others of having to go through such a terrible loss.
Last week I was in a class of seniors. There were two boys in particular that I wanted to target. I told them how Cal was an athlete, a college graduate, and had so much going for him. Then I continued with the morning he didn't wake up. The surprise and pain of friends and family when they were told that their fun loving loved one/friend had been taken from them by cocaine and fentanyl. Hearts were broken. Dreams were crushed. The young man with his contagious smile was gone.
The class was quiet at first, not typical for these kids. They heard my words. Some had their own stories to tell. Many said that they were sorry.
I am so very, very sorry for your loss. If I was writing on paper you would see my tear drops on the page. I admire your desire to turn your loss into a passion to prevent others from repeating Cal's story.
I would like to share a quote that one of my mother's friends closed with at my mom's funeral.
"I search for words to tell myself 'My friend is gone.' What can I do? As she would have. Carry on."
As you all struggle through this process please know that Ken, Kyle, and I are so sorry for your loss.
❤️ Sue & Fam
Saturday, December 14, 2019 1:58 PM
Deanne Shirley & family
Our thoughts and prayers are with you and your family now and in the days, months, and years to follow. It is never easy, and the days ahead will be hard. Please know you have family and friends to lean on at any time.
Wednesday, December 11, 2019 12:00 PM
Jodi Mizerka (thompson)
Diane and Family--I am so very sorry to hear about Cal. my thoughts and prayers have been with you throughout this journey. take care of each other, may you find love and peace in the memories you cherish! Hugs
Tuesday, December 10, 2019 9:17 AM
Darrel & Michelle Aherin
Words cannot begin to express how heartbroken we were to hear of your family's loss. This is such a tragedy. You are all in our thoughts and prayers. If there is anything at all we can do for you, please let us know.
Monday, December 9, 2019 4:36 PM
Charles G Huff
Nancy and I are keeping you in our thoughts and prayers during this difficult time for your family. Hold his memories close to your heart.
Monday, December 9, 2019 12:22 PM
Judith A Skabo
i am so sorry for your unbelievable sad and senseless loss of your son. i will think of him and pray my four sons stay safe in the big city. i will remember your quote in his obituary of Bruce Wayne and will carry that in my heart with thoughts of your perfect and accomplished son....a great Symbol of his great generation and hope for better times.
Monday, December 9, 2019 11:33 AM
Sue Krick
My sincere condolences to your family. My daughter Natalie met Cal sometime in Jr High and they became fast friends. I've heard Cal stories for years. I met Cal several times through Natalie and always found him to be a very engaging young man. My heart hurts for you and I hope you can someday find the comfort in your memories of Cal and know that he was a very loved young man.
Sunday, December 8, 2019 11:05 AM
Offer Condolences