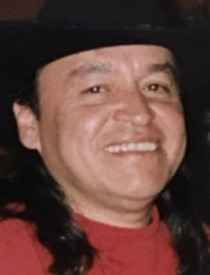 Brad Picard
2/13/1954 — 6/19/2020
Brad Lee Picard Sr., 66, entered Heaven's Gates on Friday, June 19, 2020, with family by his side, at Prestige Care Center in Lewiston.
He was born Feb. 13, 1954, to Eugene Picard Sr. and Theodora "Teddi" Allman-Picard in Seattle. He was the third born out of Gene and Teddi's nine children.
Brad is a member of the Nez Perce Tribe and is a descendent of the White Bird Band. He grew up in Mission Creek and attended school in Culdesac. Brad was raised attending church where his grandfather, the Rev. Bill Allman Sr., pastored and his grandmother, Marie (Arthur) Allman, played the piano. He would often share that he knew the Bible from front to back. He also shared the scripture John 3:16 with all who would listen. His early teachings would stay with him throughout his life. He enjoyed the Nez Perce hymns and specifically loved "When the Roll Is Called Up Yonder."
Brad had a love for fishing from an early age and it would continue to be a big part of his life. If his fishing pole was broken, he would still find success with a makeshift pole. He once caught a salmon out of Mission Creek.
Hearing Brad share stories of his childhood spent with his siblings and cousins was always sure to bring laughter. It is safe to say there was never a dull moment with the Picard siblings. Brad often referred to their band of brothers as "The Mission Creek Warriors." The memories shared about "cops and robbers," where they also served as the judge and the jury, is considered a classic, according to his children, nieces and nephews.
Brad married Tracey Presnell in January of 1972. They had their daughter, Juanita Rose Picard, before he was drafted into the U.S. Army, where he was trained as an Airborne Ranger. Following discharge, he and Tracey had their son, Brad Lee Picard Jr. Although the marriage ended in 1981, Brad spoke fondly of Tracey even in his final days.
One of the many things that he enjoyed in life was War Dancing as a fast and fancy dancer at powwows. He could be seen in his beautiful red regalia dancing with all his heart. In the last week of his time on Earth he watched powwow videos with tears in his eyes. It was evident that this was something he held very dear to his heart. He shared about how he loved hearing and dancing to the power beats in the songs.
Brad was never afraid to stand up for what he believed in, which led to his being an integral part of the Nez Perce Fisherman's Committee, where he was one of the founding members. In 1980, Brad took a stand along with fellow Nez Perce in what has become known as The Rapid River Stand Off at "Yawinma." The Nez Perce way of life was threatened as the Department of Fish and Game shut down all fishing at Rapid River. This time was crucial to the Nez Perce as many of them were willing to die in order to protect the Nez Perce way of life. He was a part of writing newsletters about what was happening at Rapid River and the importance that the salmon served to the people as well as the connection to the land. These newsletters were often delivered by his younger brother Andre'. In 1981 he also participated in a Spiritual Walk from Celilo Falls, Ore. to the Washington state capital of Olympia in protest to Washington state's attempt to delist the steelhead and salmon.
Brad's service to the Nez Perce Fisherman's Committee led to his election by the Nez Perce people and serving as a member of the Nez Perce Tribal Executive Committee in the early 1980s. He was a leader who had the ambition to protect the hunting, fishing and gathering rights of the Nez Perce. He always remained strong when it came to the Nez Perce treaties. These important times that he was a part of led to the beginning structures of the Nez Perce Tribe's Fish and Wildlife Department and Natural Resources Department.
Many years of his life were spent as a commercial fisherman on the Columbia River. He would often take his younger brother, Bill, with him. His daughter, Juanita, even spent a season fishing with him there. He followed the salmon from the Columbia to the Snake to the Clearwater to the Selway and to the Salmon rivers. He also ran the grant for The Sturgeon Project for the Nez Perce Tribal Fisheries Department. His love for fishing was a way of life for him.
Hunting trips with his son 2B (or Brad Jr.), nephews and his brothers were always a special time. He loved hunting up 58, the Lochsa and the Blues. These times were cherished and one of the best ways the Picard fellas spent quality time together. Brad taught his younger brothers and his children how to hunt and fish. He always taught them that you were to only take what you need. His children were taught this from a very young age.
Brad had a gift of making everyone feel like they were his favorite. He had a sincere and loyal heart and always protected his family the best he knew how. He was never afraid to let loose and have a good time. He loved with everything he had and he was never afraid to show it. He was always telling his family "Love you!" His personality was unmatched as he loved to have fun and laugh, but he also was not afraid to take a stand. The phrase "my brother's keeper" is very fitting of Brad, that is how he looked out for his loved ones. As his family has started to share different memories of him, it seems as if he was everyone's favorite, too.
Brad is survived by his daughter, Juanita (Zachary) Harris of Clarkston; son Brad (Karlee) Picard Jr. of Lewiston; 13 grandchildren; one great-granddaughter; brothers Eugene (Kay) Picard Jr. of Clarkston, Bill (Lori) Picard of Lapwai and Daniel (Angie) Picard of Lehi, Utah; sisters Marylu Mendenhall and Lori Picard of Pendleton, Ore.; many nieces, nephews and other relatives; and his life partner, Charlene Frank.
He was preceded in death by his grandparents, Bill Sr. and Marie Allman; parents Eugene Sr. and Theodora "Teddi" Picard; brother Andre' Picard Sr.; sisters Elizabeth "Missy" Picard and Julie "Punky" Picard; nephews Tony Picard, Albert Johnson, Quanah Picard, Theo Picard, Skylin Picard and Albert Picard; great-grandson Kailen Shaquille Vallee; and great-granddaughter Christine Rose Sampson.
A graveside funeral service will be held at 10 a.m. Monday, June 22, 2020, at the Spalding Cemetery, officiated by the Rev. Ron Wohlert. A dinner will follow at the Pi-Nee-Waus in Lapwai. Malcom's Brower-Wann Funeral Home of Lewiston is in charge of arrangements.
Offer Condolences