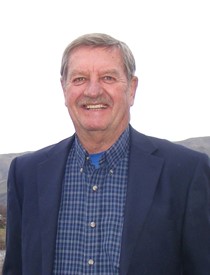 Boyd Wood
9/6/1941 — 5/15/2017
Boyd William Wood was born in Moscow, Idaho to Verla and William Alfred Wood on September 6, 1941 making a family of four with his older brother Deryl Edwin Wood. Boyd reached the age of 75 and passed peacefully at his home in Lenore, ID on May 15, 2017. 

The funeral service will be held at 11 am May 19, 2017 at CrossPoint Alliance Church 1330 Powers Ave. Lewiston, Idaho. Pastor Paul Smith will conduct the service. A reception will follow at the Lenore Community Center on highway 12at 2:00 p.m. Friday. A private family burial will occur at a later date in Elwood Cemetery at Texas Ridge. 

Boyd graduated from Lewiston High School May 28, 1959. After graduation he went into the Navy. During his enlistment he was trained in San Diego. Upon completing his training as a radioman Boyd was stationed in Adak, Alaska also on the U.S.S. Everett F Larson, and the U.S.S. Harry E. Hubbard. He was discharged January 23, 1964.

Carol Ann Farrington married Boyd August 30, 1963 in Lewiston at the Orchards Community Church. They were married for 48 years. During their married life they moved many times for employment in floor covering and farm chemicals. They moved from Lewiston to Denver to Portland, Or and back to Lewiston. When he accepted work in Moscow the family moved to Genesee, Id. Boyd and Carol lived in Genesee from 1977-2003 finally they settling in Lenore from 2003 until the present. Along the way they had four children Bill Wood, Kim Moser (Paul), DeLayne (Dee Dee) Wood and Duane Wood (Jeannie). 

Fishing, hunting, camping and growing a garden to harvest and enjoy were some of his favorite hobbies. Though he said he would not grow a garden this year he had already planted tomatoes because he just couldn't resist. Boyd would never refuse a piece of huckleberry pie. 

Boyd is survived by his four children as well as grandsons Jared Wood (Shoshana), Ian Klippenstein (Ruth) Steven Wood (Elizabeth) and Elijah Moser and granddaughters Shandra Duncan (Matt), and Valorie Marubahi. He also leaves behind two great grandsons Brodie and John with two great granddaughters on the way Ariel and Ruth. Boyd is survived by his special friend and partner of the last five years Barbra Felton.

Boyd was preceded in death by his parents, brother and wife. 

In lieu of flowers a please donate to the Lewiston Class of 1959 L.I.F.E. Scholarship fund 3317 12th St. Lewiston, Id 83501 or the Lenore Community Center LCAC P.O. box 21 Lenore, ID 83541.
Service Information
Date & Time

Saturday, May 20, 11:00 AM

Location

CrossPoint Alliance Church
1330 Powers Avenue
Lewiston, ID 83501

Get Directions
Condolences
Diane Knapp
Heartfelt thoughts and prayers to Boyd's loved ones. I know his neighbors too will miss him, he was special and a fun guy....may he Rest In Peace.
Friday, May 19, 2017 10:29 AM
Offer Condolences