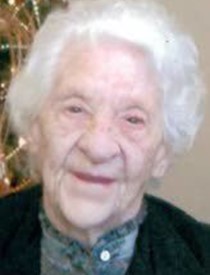 Birdie Jackson
5/1/1918 — 4/30/2020
Birdie M. (Heckman) Jackson passed into eternity Thursday, April 30, 2020. Mom was just 11 days short of her 102nd birthday, but this year she decided to celebrate in heaven.
She was born May 11, 1918, at home on her parents' Flat Iron ranch during the Spanish flu and left us during the current COVID-19, escaping illness from both pandemics. She was the third child of Minnie (Allenspach) Heckman and Arjie Heckman, delivered by her aunt, Lizzy Heckman. She attended a one-room school house (Flat Iron School) through eighth grade, after which she worked for many families doing housework, cooking and child care. She married Edwyn Fick, and they divorced after a short time, but remained friends.
She married Dudley Jackson on June 29, 1949, and became a mother to Marvin and Roger, the two sons of her deceased sister, Amanda Jackson. Birdie and Dudley had two children, a daughter, Veronica Fern and a son, Tim.
They lived on Flat Iron ranch until Dudley suffered a stroke and they were forced to sell the ranch, moving into "town." Birdie and Dudley made their home in Lewiston and she lived there until going into Royal Plaza, a month after her 101st birthday in June 2019. She was a homemaker and avid gardener who loved all flowers, but roses were her favorite.
She is survived by two sons and one daughter, Marvin (Janice) Jackson, from Ferdinand, Veronica (Steve) McIntyre, from Clarkston, and Tim (Ayla) Jackson, from Bonners Ferry, Idaho; 10 grandchildren, Karma Seubert, Peggy Click, Jeff Jackson, Bryan Stevenson, Crystal Snarr, Rabecca Rye, Jerid McIntyre, Kevin Jackson, Mackenzie Busbey and Kathy Ann Thompson; along with 30 great-grandchildren; 38 great-great-grandchildren; and many beloved nieces and nephews.
She was preceded in death by her parents, Minnie and Arjie Heckman; her sisters, Amanda Jackson, Margarette Butler and Gloria Anderson; and one brother, Wayne Heckman; her son, Roger; and her husband, Dudley (1995).
A celebration of life will take place at 1 p.m. May 16 at Echo Hills Church. Social distancing should be observed by all who attend. Malcom's Brower-Wann Funeral Home is in charge of arrangements, and cremation has already taken place.
Service Information
Date & Time

Saturday, May 16, 1:00 PM

Location

Echo Hills Church
3215 Echo Hills Drive
Lewiston, ID 83501

Get Directions
Offer Condolences