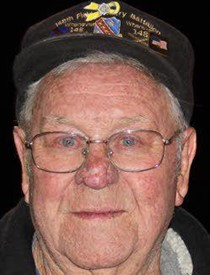 Billy Perkins
7/25/1932 — 1/4/2019
Billy Lee Parkins passed away at his home Friday, Jan. 4, 2019. Bill was born July 25, 1932, to Viola (Campbell) and Wilbur Parkins. He was the youngest of four children, including sister Vivian and brothers Joe and Jack. Bill attended first and second grade in Palouse. Then the family moved to Potlatch for two years. In the fourth grade, his family moved to Vancouver, Wash., where his dad worked in the shipyards during the war. They moved to Troy when he was in the seventh grade.
After graduation, Bill joined the U.S. Army National Guard of Idaho as a reservist of the Army based out of Camp Carson, Colo. He received his honorable discharge March 3, 1954, and returned to Troy and married Augusta (Gus) Nelson on July 11, 1954.
Bill is survived by his three children, Steven (Lewiston), daughter Patti Lynn and Dana Heath (Troy) and Rich and Jennifer (Genesee); his seven grandchildren, Nattalie, Tara, Shawn (Cassie), Payton, Carson, Emerson, and Kale; five great grandchildren, Jaxon, Coen, Cash, Ian and Baylee Rae; sisters-in-law Joanne Parkins, Maxine Nelson and Sherrie Nelson; and numerous nieces, nephews and cousins who meant the world to him.
Bill worked for Fredrickson Bros., Rauch Lumber Co., AP Green Brick Plant, Potlatch Corp. and then Keck Logging, where he worked for more than 25 years before retiring in March 1990. After retiring, he and Joe Yockey started a small company called J & B Logging, where they worked part time for approximately 11 more years.
In his younger years, Bill was a member of the Troy Fire Department for more than 12 years and was a member of the American Legion.
Bill was preceded in death by his wife, Gus; parents Viola and Wilbur Parkins; in-laws Florence and Leonard Nelson; sister Vivian and brother-in-law Jack Dillard; brother Joe; nephew Bob; brother Jack and sister-in-law Berma Jean; niece Diana Jean; brothers-in-law Rudy, Don and Larry, and sister-in-law Evalyn Nelson; niece Ardelle McGinnis; sister-in-law Edris and brother-in-law Marvin Halvorson; and sister-in-law Verlene Nelson Clemm.
Arrangements are under the care of Malcom's Brower-Wann Funeral Home of Lewiston. A service will be conducted at 11 a.m. Saturday at the Troy Lutheran Church, with a meal to follow in the church social hall.
In lieu of flowers, the family suggests memorials to the Lutheran Campus Ministry at the University of Idaho or Troy Ambulance.
Service Information
Date & Time

Saturday, January 12, 11:00 AM

Location

Troy Lutheran Church
100 S Main Street
Troy, Idaho 83871

Get Directions
Condolences
Wilma Zeller and Dennis Dionne
Our deepest sympathies on the loss of your father. He will be missed by all.
Thursday, January 17, 2019 9:24 AM
Offer Condolences