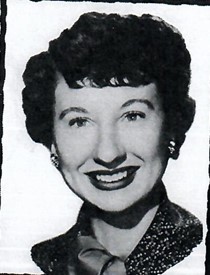 Beverly Swanson
1/25/1925 — 5/30/2017
Beverley Swanson, 92, Radio Personality, Daughter of Lewiston, ID Pioneers
Beverley J. Swanson, whose voice, commercial sales, and writing talent were hallmarks of her treasured days at KRLC radio station, Lewiston, ID in the '50's, '60's and '70's, died May 30, 2017 in Westborough, MA. In 2015, she moved to be closer to family and gained many new friends with residents and staff at Whitney Place Assisted Living and Beaumont Rehab facility there.
She was born January 25, 1925 In Orofino, Idaho to Emma Phillips Dresser, a seamstress, and Hugh Burford Dresser, a lumberman. Except for the last two years in Massachusetts, she lived her life in Lewiston. She traveled to Mexico, England, where she visited the Burford estate, her father's namesake, and to Ireland, but always called Lewiston her happiest place, her home. Three siblings preceded her in death: Beryle Scherfenberg of Spokane, WA; Philip Dresser of San Diego, CA; and Donald Dresser of Medford, OR.
Beverley's paternal grandfather, Edward Dresser born in 1858 in Carlinville, IL, was a horse trader and had the first lumberyard in Lewiston (located on the current site of Hahn Supply). Her paternal grandmother, Emma VanArsdale also of Carlinville, had the same first name as her own mother. Her maternal grandparents, Phoebe James (family lore had her related to Jesse James), and George Washington Phillips, were born and raised in Sprague, WA. George was an early railroad man; the locomotive he engineered now sits in Locomotive Park in Lewiston.
In 1944, she met and later married Art Swanson, a Spokane native, who retired from the Lewiston Post Office in 1970. They had two daughters, Dawn Swanson of Seattle, and Carol Isvak of Westborough, MA. They made their home in Clarkston where the girls went to school. In 1959, Beverley worked part-time demonstrating and selling food products at local grocery stores. As the story goes, she presented VanCamp green beans to the then owner of KRLC, Don Thomas. She said, "These are the only canned beans with no strings and they are cheaper by the case!" One case later, and a meeting with Art to discuss a sales job at the radio station, and she was on her way to a radio and public relations position lasting more than 20 years.
Beverley's early history includes recognition by her first-grade teacher for her natural ability to sing, dance, and perform. Her first stage appearance was at Lewiston's Masonic Lodge on Main Street at the age of six. With no formal training, except voice lessons, Beverley wrote and broadcast her way to successive regional awards and recognition for commercial journalism. Sales and advertising were in her blood and her voice was perfect for the radio! "Mad Men" would have taken notice of her drive and competitive spirit at a time when women in the field would have been an anomaly. A flair for the dramatic and artistic abilities influenced and punctuated nearly every element of her life since then.
Lucy Rice, a former colleague now of Sales Sense, Portland, OR, who considered Bev her mentor, said upon learning of her passing, "She was one of the most creative people in the last 100 years". Beverley's commercial writing was recognized by the National Federation of Press Women (1971 Journalism Award), Idaho Press Women, the Inland Empire Press-Radio-Television (radio production commercials), the Spokane Press Club, the L-C Kiwanis Club, where she was included in the Foremost Women in Communications 1969-70, plus many other distinctions for sales and advertising work.
Condolences
Linda Thomas Baum
Please accept my condolences on Bev's passing. She was so feisty and full of life the times I visited her in Lewiston. We drove her up above Asotin when she was in her mid-80's to look for driftwood...she was using it in crafting. She was scampering all around..it really was amazing. I hope I have some of that when I get into my old age. God bless her!
Monday, June 12, 2017 8:51 AM
Offer Condolences