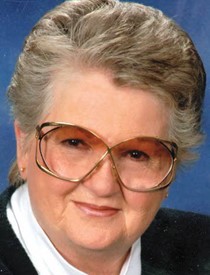 Betty Wattling
5/19/1936 — 1/1/2018
Betty Claire Wattling passed Monday, Jan. 1, 2018, at St. Joseph Regional Medical Center with loved ones by her side. She died from health complications leading to pneumonia and respiratory failure.
Betty was born May 19, 1936, in Lewiston to Harry and Muriel Blythe of Clarkston. She lived in the family home at Clarkston with her brother Art and sister Lynne. After high school she married Philip Heinen, and they had three children before divorcing.
Betty worked as a podiatry assistant while studying to become Idaho's first certified assistant podiatrist. In 1972, she was married to William O. Wattling. She worked along side her husband in the Podiatry practice until their retirement. They shared a lifetime of memories together until her husband's death in 2012.
During her lifetime, she was involved with community organizations and events. She had a love for music and supported the Washington Idaho Symphony and Jazz festivals. Betty had a flair and an eye for detail that was evident in any interest or activity she pursued. Some of her hobbies and interests were painting, cooking, reading, decorating, traveling and animals. She enjoyed meeting with her lunch bunch group with some of her friends to reminisce. Betty was devoted to her family and loved being with them whenever possible.
Betty was preceded in death by her parents, her sister, Lynne, and her son, Kerry Heinen. She is survived by brother Arthur Blythe, daughter Selina Silflow and son Scott Heinen. She has four grandchildren: Tyler, Lyndsay, Peter and Thomas, and three great-grandchildren.
Her family would like to thank everyone who knew and loved Betty throughout her lifetime who would have touched her life in some way. Thank you to the caregivers who helped to keep her with us as long as possible. A special thanks to the hospital staff and Sister Margie for being with us at her moment of passage. Betty will be missed deeply by her family and friends. She has touched all of our lives in a special way that will not be forgotten. We will respect her wishes of no public service and her ashes will remain with her family.
Condolences
Emily
I am very sorry for your loss. My heart goes out to you in this difficult time. I hope you may find comfort at Revelation 21:4, "And he (God) will wipe out every tear from their eyes, and death will be no more, neither will mourning nor outcry nor pain be anymore. The former things have passed away." We can look forward to the time when God will take away all reasons for distress and he even gives us a hope of a resurrection.
Friday, January 12, 2018 9:12 AM
Offer Condolences