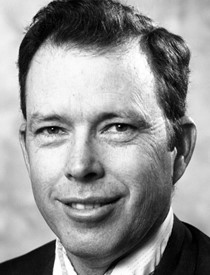 Bert Henriksen
12/13/1941 — 7/24/2017
Bert was born Dec. 13, 1941, in Lewiston, to George B. and Margaret (Millay) Henriksen. Four days after a fall from a hay truck on Monday, July 24, he passed away Friday, July 28, 2017, at St. Joseph Regional Medical Center.
They were big shoes to fill, but G. Bert Henriksen filled them very well. He was the third generation to farm that patch of land, and he made it bloom with prosperity. Some say the Henriksen place was a little too small to survive economically, but he not only survived on it, he prospered.
He raised a fine family, too - four wonderful children. Bert and Cheryl married June 16, 1973, but were not blessed with their own biological children, so they adopted. Two girls and two boys. Each was a challenge in their own right, but each grew to adulthood and became successful as well.
Bert helped his community, and the world at large, grow as well. He was active in Orchards Community Church and served on numerous boards, including the Lewiston School Foundation (LIFE) Board, the Prairie River Library Board, the State Board of Health and Welfare, and he was a 4-H leader. Together with his Lewiston High School class of 1959 alumni, he created a scholarship fund to assist Lewiston graduates in attending college. Bert and others have grown that fund to many thousands of dollars - he's always growing something.
His service on the library board carried on another family tradition - his grandmother, Ruth S. Millay, helped found the library decades ago. Bert knew her well - in addition to helping create the library, Mrs. Millay was Bert's second-grade teacher.
He also traveled to do missionary work, and not merely preaching. Each year, he and others would travel to a less-fortunate area and build schools or other construction projects. It's all about growing, you see, whether it's wheat or human beings.
He learned farming in two ways, really. He had a master's degree in agronomy and was chosen as outstanding senior in agronomy by the University of Idaho. Bert also learned under the tutelage of his grandfather, Bertel Henriksen, and his father, George Henriksen. Both were scientific farmers and Bert was as well. They all were actively involved with the University of Idaho agriculture school, making acreage available for farming test plots and new varieties of wheat. He served for more than 20 years on the Agricultural Stabilization and Conservation Service and the Farm Service Agency. His many services to agriculture were recognized when he was named Outstanding Farm Citizen by the Chamber of Commerce.
Bert came into a world full of stress and war - he was delivered prematurely, six days after Pearl Harbor. He was a sickly child and missed much of first grade. There were no antibiotics or vaccines for childhood diseases at the time. He had to be home-schooled and while bed-ridden learned to do cross-stitch, a hobby he continued all his life. Perhaps the fine motor skills acquired then were also why he was a first-class woodworker, crafting everything from beautiful and intricate wood puzzles to dressers and beds.
In 1967, he was drafted into the Vietnam War, but his agronomy degree caused the U.S. Army to assign him to plant breeding and development programs in Hawaii and near New Orleans - nice work if you can get it, and Bert certainly deserved it. In addition to farm-oriented agronomy, he became a champion breeder of dahlias. His name is well-known among dahlia fanciers from coast to coast. He returned to farming in 1969, and was a consistent winner at local county fairs for wheat, champion steers and flowers.
Farming is said to be a very hazardous profession and it has claimed the life of one of the finest farmers ever. Bert is survived by his wife, Cheryl; their four children, Sara, Ann, David and Luke; and eight grandchildren, Bailey, Grace, Jakobi, Jessalyn, Maddison, Mason, Mykal and Ryan. He will be much missed by his two sisters, Carol Stillman of Lewiston and Louise Henriksen of Pleasanton, Calif. The burden falls especially heavy on the next generation of farmers. They, too, have some big shoes to fill.
There will be a memorial service at 10 a.m. Saturday at Valley Christian Center, 3215 Echo Hills Drive, Lewiston, www.vcclc.org.
Those who wish may donate in his memory to the Lewiston Independent Foundation for Education (L.I.F.E.), LHS Class of 1959 Scholarship, at 3317 12th St., Lewiston, ID 83501, or online at www.life-inc.org. Donations also may be made to the Orchards Community Church, 822 Bryden Ave., Lewiston, ID 83501.
Service Information
Date & Time

Saturday, August 5, 10:00 AM

Location

Valley Christian Center
3215 Echo Hills Drive
Lewiston, ID 83501

Get Directions
Condolences
Crystal Abenroth
So sorry for your loss. Thoughts and prayers for your family during this difficult time. Praying that the wonderful years of memories bring comfort to you. Love you all!
Wednesday, August 2, 2017 7:48 PM
Offer Condolences