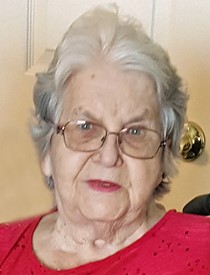 Bernice Schock
7/15/1927 — 4/9/2018
Bernice Marie (Moak) Schock passed from this world April  9 , 2018, at Golden Girls Residential Care in Lewiston where she had been living since December. Bernice was born July 15, 1927, in Selby, South Dakota, to Homer and Ada Moak, one of seven children and the oldest daughter.

She married Edwin F. Schock April 26, 1945, in Mobridge, South Dakota. The couple began their life together on a farm in Corson County, South Dakota, and   four children were born over the next five years.

In 1955, the family sold the farm, packed the kids and household goods into their new Ford sedan and moved to Lewiston. Their first home in the Lewiston Orchards had more than 30 peach trees. Much canning, freezing, jam making and pie baking made good use of the bounteous harvest for many years.

 In 1957 Bernice enrolled in the Licensed Practical Nurse program at St. Joseph's Hospital where she worked as an L.P.N. for 34 years, retiring in 1991. In 1975 Bernice was named Idaho's District 5 L.P.N. of the year and was selected St. Joseph's Employee of the Year in 1980. During her entire nursing career, she wore only white uniforms, white stockings and white shoes, which she polished nightly. Mother often said,"To be a good nurse, you need to have a kind heart, a tender touch and a quick step." Her life and work was testament to that.

After her retirement, Bernice and Ed spent time gardening, fishing and camping. She and Ed traveled to Europe, Canada, and Hawaii to visit their children and grandchildren. They celebrated their 50th wedding anniversary in 1995 and Ed passed away in 1996. Bernice continued to live in the family home in Lewiston until her health declined. She then moved to Royal Plaza Assisted Living before moving to Golden Girls. She was honored with a 90th birthday celebration last July at the Royal Plaza.

Bernice is survived by her four children: Lois (Merle) Gibbens, Ephrata, Wash.; Joseph (Janet) Schock, Paris, France; Donna (Bill) Malcom, Lewiston and Mike (Kathy) Schock, Lewiston, nine grandchildren and seven great-grandchildren. She also leaves her sister Etta Fazenbaker, Lewiston; sister Ella Roebuck, Selby, South Dakota and brother Ernie Moak, Sacramento, Calif. along with numerous nieces. and nephews. Bernice was preceded in death by her parents, husband Ed, sister Verna Gustafson, and brothers James and Herb Moak.

The family wishes to thank her physician of 40 years, Dr. James Fisher and all the caregivers who so lovingly took care of our mom these past seven years.

The family also thanks Malcom's Brower-Wann Funeral Home for their attention to detail, kindness and care. A memorial celebration of Bernice's life will be held at Malcom's on Saturday, April 14 at 2 p.m.

In lieu of flowers, memorial contributions may be made to the Snake River Community Clinic or to St. Joseph's Regional Medical Center Hospice.


Service Information
Date & Time

Saturday, April 14, 2:00 PM

Location

Malcom's Brower-Wann Funeral Home
1711 18th Street
Lewiston, ID 83501

Get Directions
Offer Condolences