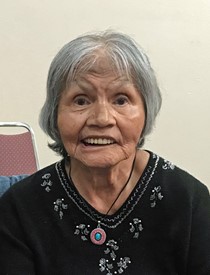 Audrey Jean Types
4/11/1938 — 8/7/2023
Audrey Jean Types, 85, a member of the Nez Perce Tribe, died Monday at Wedgewood Terrace in Lewiston where she had been a resident for six years. She had lived her entire life in the Lewiston-Clarkston Valley.
She was born April 11, 1938, to Pete Carl Types Sr., and Jane Mary (McAtty) Types. She was a graduate of Lapwai High School in 1958. She was employed at Opportunities Unlimited Inc., for 20-plus years where she received numerous accolades for outstanding service. "Audie" as she was fondly referred to, will be dearly missed for her storytelling, kind spirit and love for life. She was happiest spending time with family, participating in Christian fellowship and sharing her big heart for animals.
Her hobbies included walking everywhere, golfing, bowling, traveling adventures and various collectibles.
She is the last survivor of 12 children and is preceded in death by parents Pete Types Sr., (1947), Jane Mary Types (1973); siblings Josephine Types (1919), Wilbur Types (1927), Geneva Types (1934), Angie Types (1936), Anita Types (1939), Oliver Types (1947), Pete Types Jr., (1951), Marcella Types (1971), Celestine Chalcraft (1974), Naomi Moctelme (2004), Virgil Types (2018); niece Marie Cash (1996); great-nephews David Cash (2010), Ronald Wheeler (2005); great-niece Beatrice Wheeler (2020).
Survivors include niece Carol Wheeler; great-nieces Cindy Cash, Rhonda Wilton, Sheila Hewett, Kelly Hillman, Mary Wheeler; and several generations of nieces and nephews.
The funeral will be held at 10 a.m. Monday, Aug. 14, at the Lapwai Methodist Church with Heath Hewett officiating. Burial will be at Arrow Cemetery. Dinner reception to follow at the Lapwai Methodist Church.
Malcom's Brower-Wann Funeral Home of Lewiston is in charge of arrangements.
Service Information
Date & Time

Monday, August 14, 10:00 AM

Location

Lapwai United Methodist Church
400 US Highway 95
Lapwai, Idaho 83540

Get Directions
Offer Condolences