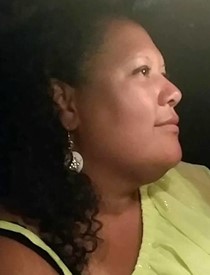 Aretha Everett
7/30/1974 — 9/8/2018
Aretha Melissa Everett, 44, entered the Upper Room on the morning of Saturday, Sept. 8, 2018. "Missy" was born July 30, 1974, at Tri-State Memorial Hospital in Clarkston, to Deborah Eneas and Arthur Clayton Everett.
She attended Lapwai High School, graduating in 1993, and attended Lewis-Clark State College from 2001 to 2003, studying business/office technology.
In 1992, she worked for the National Park Service at Spalding doing various maintenance jobs within the park. She also held other jobs throughout her life, including as a teacher's aide at the Nez Perce Tribe Head Start, flagger and pilot car driver for Nez Perce Tribe Limestone, various jobs at the Clearwater River Casino such as soft count, bingo floor, drop crew and guest service representative, and lastly as a volunteer caregiver for her great-grandmother in Mississippi. Her simple pleasures in life were being with her family and friends on camping trips to Selway and Mud Springs, Idaho, laughing, singing, joking, baking cookies for Christmas with her children, nieces and nephews, sewing dancing regalia for her daughter and nieces, and making fry bread and salads for family dinners. She was proud to be a member of the Nez Perce Tribe, a Raiders fan and Lapwai Wildcat fan of her nephews' sports.
Loved ones who await her are her father, Arthur C. Everett; maternal grandparents William J. Eneas Sr. and Betty Corbett; paternal grandparents Frank S. and Maude Lee Everett; cousins Son Son and Joey Lynn Eneas; and uncle Bull Eneas.
Loved ones who will miss Aretha until they meet again include her mother, Deborah TwoHatchet (Spencer); daughters Deborah and Deachon Everett; sons Khaliel and Niqoi Everett; brothers Tui Moliga (Taricia) and Keith TwoHatchet; sisters Artrette Sampson, Claymecia Everett, Ruby TwoHatchet and Peggy Vanwoerkom; and a host of aunties, uncles, cousins, nieces and nephews.
Malcom's Brower-Wann Funeral Home is in charge of arrangements. A candlelight vigil will take place at 8 p.m. Friday at the Pi Nee Waus Community Center parking lot. Services and viewing will take place at noon Saturday at the Pi Nee Waus Community Center, with dinner to follow. Cremation will take place after services, burial and a celebration of life will take place at a later date.
Service Information
Date & Time

Saturday, September 15, 12:00 PM

Location

Pi-Nee-Waus Community Center
99 Agency Rd.
Lapwai, ID 83540

Get Directions
Condolences
Tricia Ellenwoodi
Im going to love and miss you Im sorry how things was in the end but I know deep down we will always be sisters for life and I will help the kids as much as I can.
Monday, September 24, 2018 3:04 PM
Offer Condolences