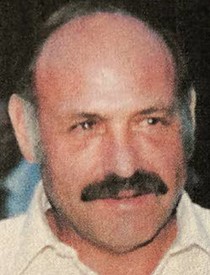 Andrew Hudson
12/13/2018 — 12/10/2018
Andy passed away Monday, Dec. 10, 2018, at age 83. He had an adventurous life and was fulfilled with the love of friends, family and adventure.
He was born Nov. 3, 1935, in Grangemont, Idaho, to Harry and Beatrice Hudson. He grew up in the middle of 10 siblings, eight brothers and two sisters. His brother, Sam, has many stories to tell about the escapades of their youth.
At age 18, Andy married his first love, Barbara Thomason. Together they had three children, Ron, Diana and Andrea. Through Andy's desire to provide for his family and love of the outdoors, he started logging. This career choice suited him well and he was successful. He resided in Orofino until his divorce in 1970.
Andy then moved to the Weippe area to continue logging and building his own company. During this time he was married to Marsha Snyder and then Mary Jo Ebert. Andy loved people and they loved him. He had a smile and a twinkle in his eye that drew others to him. He was fun-loving and generous to others.
In 1998, he decided to try something new and spent two years in Russia managing a remote Russian logging camp (using a translator). He returned home with many stories of his adventures with his crews, translator and bodyguard. After his return to the states, he continued logging for a while, tried a new business venture at the Royal Room in Cottonwood, and finally settled into retirement.
Andy spent his retirement on Kidder Ridge above Kamiah taking care of the cows of his lifelong friend, Marty Thompson. He found happiness in the simple life of mending fences, cutting firewood and taking in the beauty of the outdoors.
Andy was preceded in death by his parents, Harry and Beatrice; his siblings, Charles, Tom, Lee, Lou, Frank and Ed Hudson; his daughter, Diana Brown; and his grandsons, Chance Crow and Brad Kinzer.
He is survived by his son, Ron Hudson, and Michelle; daughter Andrea Kinzer and Kirk; son-in-law Chuck Brown; grandchildren Erika La Vella and Mike, Jeremy Kinzer and Steph, Caitlin Brown, Randy Hudson, Michael Mullen and Melissa; six great-grandchildren; brothers Sam Hudson and Dorothy, Joe Hudson and Colleen; sisters Ella Stout, Laura Chatham and George; as well as many nephews and nieces.
A celebration of Andy's life will be held from 11 a.m. to 1 p.m. Monday at the Veterans of Foreign Wars Hall in Orofino, 330 Michigan Ave.
Service Information
Date & Time

Monday, December 17, 11:00 AM

Location

Veterans of Foreign Wars
330 Michigan Avenue
Orofino, Idaho 83544

Get Directions
Offer Condolences