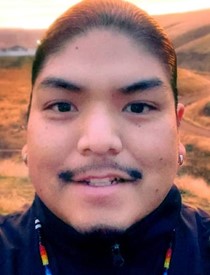 Andrew Broncheau
1/31/1983 — 10/14/2021
Andrew Phillip Broncheau, of Lapwai, passed away Thursday, Oct. 14, 2021, in Lapwai.
Andrew was born Jan. 31, 1983, to Noreen S. Allen Broncheau and Frank Broncheau Sr. in Lewiston. He went to school at Lapwai Jr./Sr. High School where he loved to play football. Andrew finished his GED at Lewis-Clark State College in 2006.
Andrew enjoyed traveling to gatherings and pow wows to sing, dance and watch his nieces and nephews do the same. Andrew was a singer since he could pick up a drumstick and fell in love with singing and chose to pursue his passions; continuing to sing and travel to gatherings around the U.S. and Canada to share his love with others. One of his most beloved memories being when he traveled with the Southern Cree singers of Rocky Boy. Andrew's time traveling with them taught him a lot, leading to a lifelong friendship with his new brothers. Through his enthusiasm and love for singing he was asked to be a head drum judge in 2019 at the Kyiyo pow wow; a pow wow he has been traveling to and attending since the 1990s. He loved to joke around with friends and family; terrorizing his loved ones brought him joy and let the ones closest to him know how much he cared for them.
Andrew was a father to five sons; Anthony Cree, of Bonners Ferry, Idaho, Austin, Angel, Alden, and Aaron (RIP) Broncheau, all of Lapwai. He liked to watch his boys play football and basketball.
Andrew was a hard worker and dedicated his time to his tribe; starting at the Nez Perce Tribe at the tribal Housing Authority and continued to work his way to the Clearwater Casino as one of the lead security officers.
Drew was preceded in death by mother Noreen Allen-Broncheau, brother Albert Broncheau, and son Aaron Broncheau.
Drew is survived by father Frank Broncheau Sr., sister Lillian Allen-Snipe (Ben Snipe), Esther Broncheau (Gideon Standing Rock), Frank Broncheau Jr. (Chenoah Broncheau), Elizabeth Broncheau-Tewawina (Robert Tewawina), Charlene Broncheau (David Sagebark), Becca and Trish (adopted sisters), sons Anthony, Austin, Angel, and Alden, many nieces and nephews, and all his close friends.
Due to COVID-19, there will be no viewing. Arrangements are set for 7 p.m. today with a non-denominational memorial service at the Pi-Nee-Waus Community Center. At 8 a.m. Wednesday one set of seven walusut songs with spreading of ashes, burial of the urn, handshake, crying ceremony and dinner to follow. Please adhere to the COVID-19 protocols: masks required, social distance and sanitize.
Service Information
Date & Time

Wednesday, October 20, 8:00 AM

Location

Pi-Nee-Waus Community Center
99 Agency Rd.
Lapwai, ID 83540

Get Directions
Offer Condolences