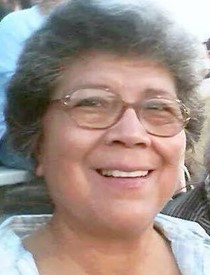 Andrea Axtell
10/21/1939 — 12/7/2019
Witalaliikma (Andrea Axtell) began her journey to 'eey'snin weetes Saturday, Dec. 7, 2019, with her children, grandchildren and great-grandchildren by her side.
She was 80 years old and an enrolled member of the Nez Perce Tribe. She was born Oct. 21, 1939, in Lewiston to Elias Wilson and Helen Hayes.
Andrea grew up in Kamiah, where she made lifelong memories with her many cousins, which included swimming at the Rock, and also attended the Talmaks Presbyterian Camp with her family and friends. Her teenage years were spent in Phoenix, where she graduated from North Phoenix High School in 1957, marrying Harlan Bohnee shortly thereafter. That marriage ended in divorce.
On Dec. 21, 1963, she married Horace Percy Axtell, her lifelong mate, where they established a loving home in Lewiston. Andrea worked as an administrative specialist at various places in between her being a No. 1 mother and wife, taking care of her family and home. She was constantly on the go, being involved with Lewiston JOM, PTA and the Nez Perce County Democratic Party, to name a few. She also served as Nez Perce Tribe General Council Secretary and served on the Resolution and Amendments Committees. Her hobbies included beading, sewing, knitting, crocheting, playing piano and canning foods.
In 1978, she began learning and being mentored by many Niimiipuu elders to harvest and prepare traditional foods for the Walasat way of life. She was a strong woman who supported her husband. She eventually carried the role as the Niimiipuu Longhouse head cook.
She traveled throughout Indian Country, attending many powwows, being the powwow mom, setting up camp, and feeding family and friends. In later years, she and her husband traveled many places while serving on the American Indian Science & Engineering Society Council of Elders, and she was a member of the Sequoyah Fellows. Together, she and her husband mentored hundreds of college students throughout the United States. While serving with the White Bison Society, Andrea and her husband helped many people in recovery from alcohol and drugs participating in the Wellbriety Movement.
She was also active with the Earth Ambassadors Council of Elders, the Four Worlds Development Project Council of Elders and served on the Chief Joseph Days Indian Encampment committee, playing a key role in the July encampment events, together with Niimiipuu from the Colville and Umatilla Tribes and friends from Joseph, Ore. In 1977, Andrea and her husband traveled to the Nez Perce War of 1877 sites to conduct memorial ceremonies, which was also the first year of the Lookingglass Pow Wow, where she served on the powwow committee and served as the whip woman, a very important role that was a great honor for her. For the next 40 years, she traveled each year along with her husband to the memorial sites and to Pincher Creek, B.C.
She was preceded in death by her parents, Elias Wilson and Helen Hayes; her husband, Horace Axtell; her sisters, Delores Lookingglass Wheeler, Edith Lookingglass Strombeck, Nancy Lookingglass Johns and Maxine Wilson Allen; her brothers, Jackie Wilson, Glen Wilson, David Lookingglass Jr., Gilbert Lookingglass; adopted daughter Margo Aragon-Harrington; great-grandson Ambrose Smartlowit, and great-granddaughter Nevelle James.
She is survived by her children Chuckie (June) Axtell, Purnell (Marilyn) Axtell, Kay Seven, Jean (Benjamin) Bohnee, Liz Bohnee, Brenda Axtell, and Steve (Gabrielle) Axtell, adopted grandson Bret Benally-Thompson and 23 grandchildren and 27 great-grandchildren.
Services will begin at 2 p.m. today with the dressing and Walasat Services at 7 p.m. at the Niimiipuu Longhouse. The Final Seven will begin at 7 a.m. Wednesday followed by procession to Horace Axtell Ranch in Ferdinand for burial. Final services will conclude at the longhouse.
Service Information
Date & Time

Wednesday, December 11, 7:00 AM
Offer Condolences