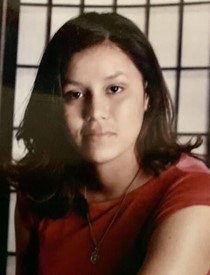 Alyssa Jo Ramsey
1/11/1985 — 11/10/2023
Alyssa Jo Ramsey, was called home to be with her Lord and Savior on Friday, Nov. 10, 2023. As an infant, she was baptized at Second Indian Presbyterian Church in Kamiah. She was a Nez Perce tribal member and descendant of the Red Wolf Alpowa Band and Huusus Maqs Maqs of the Whitebird Band.
Alyssa was born in 1985, in Lewiston, to Lisa Guzman and Richard Ramsey Sr. During her childhood, her father was in the armed services where she lived in Nuremberg and Schwabach, Germany, for a short period of her life.
She grew up attending elementary school in Moscow, Cheney, Wash., and Kent, Wash. Throughout her middle and high school years, she was a Moscow Bear but graduated as a Lapwai Wildcat. She participated in various extracurricular activities such as track, basketball, Indian Club and enjoyed being a high-school cheerleader.
After high school, Alyssa attended the University of Idaho briefly and then achieved an Early Childhood Development Certification. Throughout her life, she explored many other employment opportunities before choosing to stay at home and care for her children; this was her most life-fulfilling commitment.
Alyssa met her best friend and love of her life in 2009, Harlan "Max Jr." Wheeler. Alyssa and Max made beautiful memories while raising their three children: Aviana (12), Haidyn (10) and Loren Wheeler (7). Alyssa shared unique and cherished relationships with each of her children. She spoke of Aviana's insightfulness and her ability to understand when Alyssa needed support, comfort or a good laugh. She called Aviana her "Angel." She spoke of Haidyn's witty and determined spirit and would often refer to her as "Twinks." She always admired Haidyn's thoughtfulness toward others. Most often, Alyssa referred to Loren as "Sunshine Boy," as he sang her songs and uplifted her with his sweet demeanor.
Her fondest memories with her family were taking the kids on fishing trips, camping along the Selway, summer family beach trips, their annual coast trip and going to all their childrens' various activities. The family memories included raising the family dogs, Ellie and Drogo.
Alyssa's life was dedicated to being the best mom, auntie and big sister to everyone. Many of her friends and family share fond memories of how Alyssa's authentic and thoughtful nature attracted others to feel heard and valued. Alyssa is a thread to her strong, cohesive family.
She was preceded in death by late paternal grandparents Josephine Paul Ramsey, Aaron Ramsey, Don Taylor; maternal grandfather Oscar Guzman; and brother Richard Mark Ramsey Jr.
She is survived by her maternal grandmother, Shirley Guzman; husband, Max Wheeler Jr.; children Aviana, Haidyn and Loren Wheeler; parents, Lisa Guzman (Bryan Samuels), Richard Ramsey (Justine Miles); in-laws: Alicia and Harlan "Max" Wheeler Sr.; her sisters Andre'a Sonneck (Jordan), Erin Ramsey, Bryanna Samuels, Sonya Allen, Sybil, Sydel and Austin Samuels. She lovingly considered her nieces and nephew: Jaleia, Jayda and Jordan Sonneck Jr. as her own. She also leaves behind countless cousins, aunties, uncles and friends.
There are no good byes for us; Alyssa Ramsey marked our hearts with love, laughter and tears.
Funeral services will take place at 10 a.m. Wednesday, Nov. 15, at the Second Indian Presbyterian Church, Fir St. and U.S. Highway 12, Kamiah. The burial will be at No Kidd Lane in Kamiah and dinner will follow at the dining hall of the Second Indian Presbyterian Church.
Service Information
Date & Time

Wednesday, November 15, 10:00 AM

Location

Second Indian Presbyterian Church
Fair Street & Highway 12
Kamiah, Idaho 83536

Get Directions
Offer Condolences