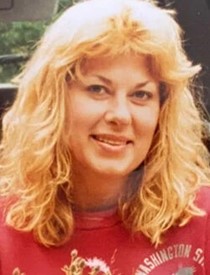 Alana Jean Fisher-Thompson
6/22/1951 — 7/9/2023
Alana Jean Fisher-Thompson was born June 22, 1951, to Corleen and Allyn Fisher, of Pomeroy. Alana passed away suddenly of cardiac arrest in her home Sunday, July 9, 2023, with Brian by her side.
Alana Jean, "AJ", grew up in Clarkston, graduated Clarkston High School in 1969. After graduation, Alana attended Washington State University for a year, then traveled across country for a period of time.
Upon returning to Clarkston, Alana worked for Jim's Highland Grocery as a manager. One day, a handsome young construction worker, with a big smile, stopped in to buy his lunch. The following day, Brian returned to ask Alana on a date. According to the couple, it was "love at first sight!" Alana and Brian were married July 29, 1977, in Allyn and Corleen's home, surrounded by friends and family. Brian had local artist Larry Tannehill make a "one of kind" wedding ring for Alana.
Alana worked for Tri-State Memorial Hospital as Human Resource benefit coordinator, and payroll specialist. Alana was very proud of her position at Tri-State Memorial Hospital, she enjoyed her time there with fellow employees, colleagues and friends. Retiring 2016, with 47 years, to spend more time with husband Brian and family.
Alana and Brian enjoyed spending free time with family on Dworshak Reservoir fishing on the pontoon boat, with brother Gary, and wife Virginia, Brooke, Bridgett, twin nieces. Alana named the boat, "Large Marge the Party Barge."
Fondest memories of Alana were spent with her family at the Lochsa Lodge, sitting with Gus on liars bench, hiking, fishing, picking huckleberries and flowers. Alana and Brian both enjoyed spending time with Corleen and Allyn attending antique shows, local estate sales, traveling to Las Vegas for shopping, concerts and Caesars Palace for the famous boxing match with Oscar De La Hoya , meeting ring announcer David Buffer was a highlight.
Alana had the most beautiful smile, and laugh. She loved to watch movies, eat chocolate candy, read books, draw, flowers, butterflies, blue birds and most favorite her cats.
Alana will be truly missed by all who have met her. She was preceded in death by her father, Allyn Fisher in 2011, and mother, Corleen Fisher in December 2022.
She is survived by husband, Brian Thompson of 48 years; brother Gary (Virginia) Fisher of Clarkston; Brooke Fisher and Bridgett Fisher of Seattle; sister Kelly (Mark) Fuhrman of Sandpoint; Haley Fuhrman of Seattle; and Cole (Georgia) Fuhrman of Helena, Mont.
Graveside service for immediate family was held in Pomeroy on July 15 honoring both Alana and her mother, Corleen Fisher. Both were placed together near our beloved father, Allyn.
Alana will be missed by all who knew her. Our family is truly saddened by the early departure of Alana, however, we will remember the fond memories of her life.
A nickname Alana earned while picking wild flowers in the Selway Bitterroot Wilderness area, Brushy Fork and Colt Killed trail head near "Allyn Hole" the area which surrounds the Lochsa Lodge, was "Rainbow."
When you see the rainbow, smile and please remember Alana in all her beauty.
Love you Alana, we all miss you so much. Love, Brian
Offer Condolences