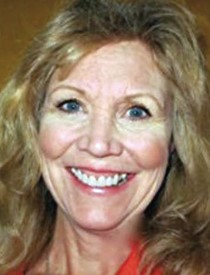 Alana Bailey
7/29/1954 — 12/12/2016
On Monday, Dec. 12, 2016, Alana Sue Bailey, "Lanie," passed into the loving arms of her waiting grandparents, enveloped in the radiant love of Jesus, Neem Karoli Baba and a host of celestial guides. She passed at home after lovingly receiving around-the-clock care from her husband, Bob, and sister, Kim, throughout her ordeal of a broken leg and cancer. It was an honor and our hearts are broken.
Lanie was born July 29, 1954, to Douglas and Mierley (Fordham) Day in Bend, Ore. The family eventually moved to Lewiston, where Lanie graduated from Lewiston High School in 1972. Lanie married Michael Uglem right out of high school and they were divorced a few years later. She received an associate degree from Lewis-Clark State College and worked in a variety of jobs in the Lewiston-Clarkston Valley before retiring at St. Joseph Regional Medical Center after 10 years.
In 1982, Lanie met Robert E. "Bob" Bailey and they became inseparable. They married Dec. 5, 1987, and enjoyed a true melding of the mind over the years. They had no children, but Lanie lovingly accepted Bob's son, Jerry Bailey, as her own.
Lanie was a great believer in positive energy, which led her to become a Reiki master and crystal expert. She traveled to Seattle, Hana, Hawaii, and Sedona, Ariz., to receive training from the leaders of these disciplines. Bob accompanied and encouraged her in these pursuits, knowing that she would influence people's hearts as she had his.
In 2009, she created Peaceful Light, her business encompassing her beliefs. In the last two years, Lanie researched, wrote, illustrated and published on Amazon five inspirational children's books and was working on her sixth. The books, in a secular way, encompass her beliefs about the interconnectedness of life on Mother Earth and the importance of protecting it for future generations. She worked with Michael Mish, acclaimed voice-over artist, who collaborated with her on the audio versions, and they became good friends. We are so proud of her.
Lanie and Bob traveled the western United States, Canada, Mexico, Hawaii and Thailand over the years, always visiting the ancient holy and cultural places, including Buddhist caves and mountain temples in Thailand - beautiful!
Lanie is survived by her husband, Robert Bailey; parents Douglas (Nancy) Day and Mierley (John) Snyder; sisters Darliss (Larry) Bardwell and Kim Uhlorn; stepsister Jerril Nilson; stepbrother Randy Nilson; stepson Jerry Bailey; nieces and nephews Michelle, Jason and Tyron (Darliss), Angie and Kevin (Kim), Ella (Jerril), Benjie (Randy); and numerous cousins of the extended family.
Lanie was preceded in death by her grandparents, Wilfred and Olive Fordham, and Noel and Doris Day; uncle Johnny and aunt Arla; aunt Connie; and her beloved pets Misty, Luke, Scamp, Lydia and Mandy.
True to her private and humble self she wanted no funeral, but we will celebrate her inspirational life in the spring, her favorite time of the year. She brought us all together with her generosity and good cooking and showered us with boundless, unconditional love.
Donations can be made to the local animal shelters to relieve the suffering of those who have no choices.
A special thanks to doctor Celso Chavez, nurse practitioner Leah Chavez and the staff at Clearwater Medical Center for their guidance and sincere compassion.
Offer Condolences