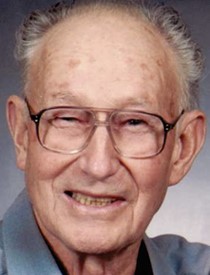 A. LeRoy Anderson
3/24/1922 — 4/20/2018
March 24, 1922
- April 20, 2018
Gone home to be with Irene, "the love of his life."
LeRoy was born in Agatha, Idaho, to Art and Madge Anderson. He graduated from Lapwai High School.
He married Irene McKinnon on Feb. 19, 1992, in Grangeville. They moved to the Cougar Ridge Area in Lewiston in 1998.
He worked as a machinist and auto mechanic in Craigmont, running his own shop. There wasn't anything he couldn't fix.
He attended the Trinity Lutheran Church.
He was preceded in death by his parents; his brother, Ernie Anderson; his sister, Betty Jacobs; and his daughter, Janet Bovey. He is survived by his son, Bob (Sue) Anderson of Boise; son-in-law Dwight (Dode) Bovey of Lewiston; his sisters, Rachel (Gene) Bonnalie of Orofino and Anna Mae Woodland of Sandpoint, Idaho; grandsons Roger Bovey of Grandview, Wash., Bruce Bovey of Lucile, Idaho, and Melvin Bovey of Twin Falls; grandaughter Misty Mitchell of Nampa; and one great-grandaughter.
There will be a graveside service at 11 a.m. Wednesday at Lewis-Clark Memorial Gardens, 3521 Seventh St., Lewiston.
He loved the Lord.
Service Information
Date & Time

Wednesday, April 25, 11:00 AM

Location

Lewis-Clark Memorial Gardens
3521 7th Street
Lewiston, Idaho 83501

Get Directions
Condolences
Pat Ankney Lynch
My mom, Dorothy Webb Ankney Anderson, was married to LeRoy for several years prior to her death in 1991. Dorothy and LeRoy had known each other in high school (Lapwai) and she was happy to reconnect with him via a class reunion around 1972. LeRoy was a kind, gentle man and I'm thankful for the time they had together. I'm also happy that he and Irene were able to reconnect and share 25 happy years. My condolences and best wishes to your family.
Sunday, April 29, 2018 5:40 PM
Offer Condolences