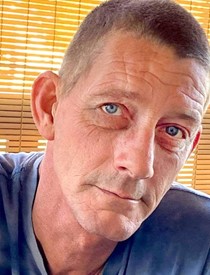 Jason Allen Cox
12/15/1970 — 10/6/2021
Jason "Jay" Cox, 50, left this world Wednesday, Oct. 6, 2021, at Lapwai, spending his final moments in the embrace of the love of his wife of 30 years, Noel.
Jay was raised in western Washington where he grew up building tree forts, racing around on his BMX bike and riding dirt bikes and ATVs. In 1991, he met Noel and started his family. In 1997, he moved the family to Idaho to raise his children in the mountains.
He was a very creative man, always working with his hands or doodling pictures of his family and friends. He built custom log homes for more than 30 years. In his final years, he was a custom furniture and cabinet builder.
He is survived by his loving wife, Noel; children Sam (Nick), Jason and Brook-Lynn (Garrett); brother Kevin (Jenny); mother, Linda; and his grandchildren Minnie, Jacob, Shyanne and Brayden.
He was preceded in death by his sister Tiffany.
Jay was mentor, friend, brother and father to so many more. He is loved and will be missed by all those he touched throughout his life.
Offer Condolences