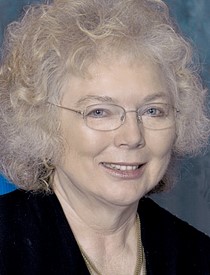 Janice Groseclose
10/2/1942 — 6/22/2019
Janice Merlene Heimgartner Groseclose, lifelong Juliaetta area resident, passed away Saturday, June 22, 2019, after a courageous six-year battle with ovarian cancer.
Janice was born Oct. 2, 1942, to Lawrence and Nellie Marie Fey Heimgartner at Swingle's Nursing Home in Clarkston. She was the eldest of three siblings. Janice grew up on the family farm on American Ridge, located between Kendrick and Juliaetta. She was enrolled in Juliaetta Elementary School, where she skipped the second grade, making her the youngest student in her class. At Kendrick High School, Janice was a majorette, played the piano both in solo competitions and as the accompanist for the high school chorus and graduated as salutatorian of her high school class of 1960.
She then enrolled in Lewis-Clark Normal School in the teacher education program, obtaining an associate degree in elementary education in 1962, where she received the Gertrude Mellon Dick Award for the highest scholastic achievement in her class. Janice subsequently graduated from Lewis-Clark State College with a Bachelor of Science degree in elementary education, again earning the Gertrude Mellon Dick Award. In 1978, Janice earned her Masters of Education at the University of Idaho.
Janice spent 42 years teaching first grade in Lapwai School District in Lapwai, including a stint as principal of Lapwai Middle School. Mrs. Groseclose was a phenomenal teacher who poured her love into each and every student. She dedicated her life and used her creative ingenuity to teach hundreds of children. Janice was active in the Lapwai Education Association, serving as both the president and the secretary of the LEA, and was a diligent worker on the negotiating team. Janice was named Lapwai School District Teacher of the Year in 1987.
Janice served for many years as board member, secretary-treasurer, Sunday school teacher, pianist and organist for the Juliaetta Community Church. Janice was an accomplished pianist. She taught piano lessons and played for many weddings, funerals and other community functions. Janice was the secretary-treasurer for the Juliaetta Televison Association, which provides free television reception to the town of Juliaetta. In 1977, Janice led a successful, hard-fought campaign to bring about the underground sewer pipe system and sewage treatment facility in Juliaetta.
Janice married Richard Groseclose on Nov. 23, 1962, at Kendrick Methodist Church in Kendrick. Janice and Richard lived all their married life in Juliaetta, where they built their own home, raised a large garden, grew fruit trees and enjoyed setting up Christmas light displays. Janice especially enjoyed planting and caring for her large flower gardens. Over the years, Janice and Richard acquired numerous rental housing units and dedicated a great deal of time to maintaining and caring for their properties and successfully managing their business.
Janice and Richard were selected Citizens of the Year in 1988 by the Kendrick Grange. They were the Honored Citizens for the Juliaetta Blackberry Festival in 2010, and the Grand Marshalls of the Kendrick Locust Blossom Festival in 2013.
Janice is survived by her husband, Richard Groseclose; daughter and son-in-law Marilou and Rick Markley; sister and brother-in-law Joanne and David Johnson; and brother and sister-in-law Ray and Dede Heimgartner.
The funeral is scheduled for 11 a.m. Thursday at the Juliaetta Church of the Nazarene.
Service Information
Date & Time

Thursday, June 27, 11:00 AM

Location

Juliaetta Church of The Nazarene
516 State Street
Juliaetta, Idaho 83501

Get Directions
Condolences
Frances Dodge
Rip. May your wisdom for which you shared be remembered by all.
Thursday, June 27, 2019 1:29 PM
Offer Condolences