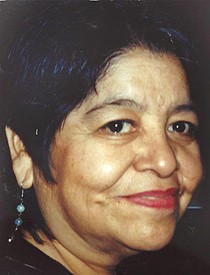 Elaine Ellenwood
2/4/1943 — 3/4/2019
Elaine Ellenwood returned to the Creator on Monday, March 4, 2019, due to complications with a bacterial infection at Harborview Medical Center in Seattle. She was born Feb. 4, 1943, to James Ellenwood Sr. and Elizabeth Crow Ellenwood, in Lewiston. She was one of six children.
Elaine and her family lived in Lapwai, where she would often recount stories of playing and fishing in nearby creeks with her brothers and sisters. After the passing of her mother, she was sent to St. Joseph's Mission Orphanage near Lapwai and Culdesac. Later, she was moved to Chemawa Indian Boarding school in Salem, Ore., where she met other Native American children before returning to her home.
She participated in a variety of occupations, including a factory job where she sewed and packed baby clothes, as a caretaker at the Midway Home in Winchester, overseeing the Pi-Nee-Waus café with her sisters, Laura Redding and Caroline Ellenwood, and work as a teacher's aide at Highland School District, before finally settling into a 30-plus-year career as a Nez Perce Tribal employee with Land Services.
From her first marriage to Vaughan "Sonny" Bybee came her two daughters, Vonda (Bybee) Moffet and Valda (Bybee) Conklin. And from her second marriage, to Floyd Arquette II, came her only son, Floyd (Butch) Arquette III. These were followed by marriages to Willis Humphrey and Cecil Daniels, which ended in divorce, and a relationship with Delmar Wilson that ended in separation.
Elaine had many interests and hobbies, such as spending summer days on the Salmon River with family enjoying the sun and water while reading tabloid magazines and books. She enjoyed gambling and could often be seen playing the slots at the Clearwater River Casino. She loved going to Winchester Days to congregate with family and watch the fireworks, spending time with her grandchildren and great-grandchildren, telling stories, singing a mean "Old Time Rock and Roll" at karaoke, and watching her grandson play basketball with the Lapwai Wildcats. She will always be remembered for her ability to bestow everlasting nicknames and to impart her particular style of wisdom.
Elaine was preceded in death by her parents, as well as her four sisters, Carmen Ellenwood, Caroline Ellenwood, Laura Redding and Neva Ellenwood; and her two brothers, James Ellenwood Jr., and Julius Ellenwood.
She is survived by daughters and sons-in-law Vonda and Elliott Moffett, and Valda and DJ Conklin; her son, Floyd (Butch) Arquette III; 12 grandchildren: Travis (Tanya) and Levi (Mia) Osburn, Stacey (Eric) Kash Kash, Adrian Miller, Danita Bybee, Julian and Greg Humphrey, Elijah Arquette, Harley Conklin, and Joel, Meredith and Von Moffett.
She also is survived by 10 great-grandchildren: Shane and Malik Osburn, Haley Patrick, Jalen, Jenz, Nadia and Neva Kash Kash, Evia and Jennavieve Osburn, and Riley Hart.
The memorial service will be held at 7 p.m. Sunday at the Methodist Church in Lapwai. A funeral service will begin at 10 a.m. Monday at the Pi-Nee-Waus Community Center with burial at Jonah Cemetery in Sweetwater. Food and celebration to immediately follow back at the Pi-Nee-Waus Community Center.
Service Information
Date & Time

Monday, March 11, 10:00 AM

Location

Pi-Nee-Waus Community Center
99 Agency Rd.
Lapwai, ID 83540

Get Directions
Offer Condolences